About the Data Use Oversight System (DUOS) Pilot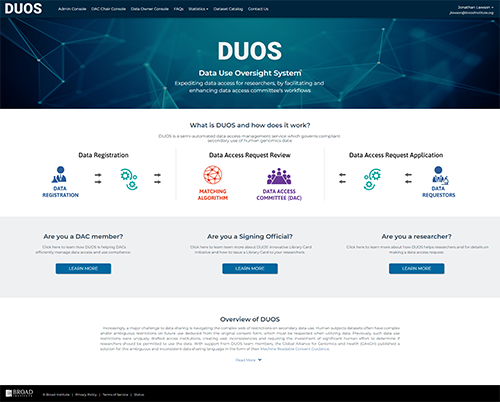 The National Institutes of Health (NIH) Data Access Committees (DACs) play an important role in ensuring that controlled-access datasets (that contain potentially identifiable data and require approval prior to access) are used in a manner that is consistent with the informed consent of the study's participants. The growing demand for controlled-access datasets has spurred the development of new semi-automated systems that will retain the oversight by the NIH DACs while enabling efficient reviews and approvals of the data access requests.  
The Data Use Oversight System (DUOS) is a semi-automated study registration and data access request management service informed by GA4GH DUO standard, which enables the secondary use of human genomics and other controlled-access data in compliance with the informed consent of study's participants. In this pilot, four NIH DACs are testing DUOS and providing feedback on the potential of the system for NIH's needs. The goal of the pilot is to assess whether DUOS can enhance current methods for overseeing and granting data access in ways that improve the user experience of the DACs, researchers, and institutional signing officials.
The pilot effort is led by the National Human Genome Research Institute's (NHGRI) Genomic Data Science Analysis, Visualization, and Informatics Lab-space (AnVIL) with additional support from the Office of Data Science Strategy (ODSS).
As the DUOS pilot progresses, the team intends on piloting policies and infrastructure that allow pre-authorization of researchers by their institutions to apply for controlled-access data. This initiative, conceptualized as "the Library Card," will hopefully reduce the administrative burden on signing officials and the decrease the review and approval times of researcher data access requests.
Participating NIH Data Access Committees (DACs)
National Human Genome Research Institute (NHGRI)
National Institute for Allergy and Infectious Disease (NIAID)
National Heart, Lung, and Blood Institute (NHLBI)
Joint Addiction, Aging, and Mental Health (JAAMH)

Joint DAC for the National Institute of Aging, National Institute on Alcohol Abuse and Alcoholism, National Institute on Drug Abuse, and National Institute of Mental Health
Milestones
July 2020 - Phase I Complete
The NHLBI and NHGRI DACs tested DUOS with previously processed Data Access Requests. There was a high level of fidelity between DUOS semi-automated representation of the DAR process and the fully human review, with clear opportunities to improve and increase the level of fidelity. These outcomes guided improvements to DUOS with the goal of streamlining processes and making the interface more user-friendly.
January 2021 - Phase II Ongoing
NHGRI and NIAID DACs are testing DUOS with new requests for controlled-access datasets hosted by NIH data repositories (these requests were also processed using the current dbGaP access procedures). Researchers are invited to volunteer to use DUOS interfaces when submitting new data access requests.

NHLBI and JAAMH tested the system and provided additional feedback to inform development of DUOS for NIH.
Next Steps of the Pilot
Obtain broader input from additional NIH DACs and requestors.
Conduct user testing of end-to-end access management by DUOS, including dataset registration.
This page last reviewed on September 14, 2021