Friday, December 20, 2019
New NHLBI BioData Catalyst Fellows Program Seeking Applications
Deadline to Apply is Jan. 17, 2020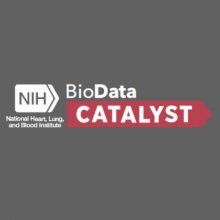 The National Heart, Lung, and Blood Institute recently announced the BioData Catalyst Fellows Program. This program will provide researchers the opportunity to receive funding to help support research on novel and innovative data science and data-focused research programs. Preference for this one-year position will be given to early career researchers – graduate students, postdocs, and junior faculty. The program is open to academic disciplines conducting biomedical research or related research in heart, lung, blood, and sleep domains.
The goals of the BioData Catalyst Fellows Program are to:
Attract eager, risk-tolerant users to BioData Catalyst to provide real world user feedback, especially scientific guidance, to the BioData Catalyst developers.
Identify potential superusers of BioData Catalyst who can become experts on its functionality and can in turn attract and informally support other users in their peer group.
Support dedicated time to work on large scale datasets including TOPMed to accelerate research productivity.
The deadline to apply to this program is 11:59 p.m. EST, Jan. 17, 2020. Successful proposals will be announced on Feb. 17 with the program beginning on March 6.
To learn more about the BioData Catalyst Fellows Program, visit bit.ly/BDCatalystFellows or contact the NHLBI BioData Catalyst Coordinating Center at bdc3@renci.org.
About NHLBI BioData Catalyst
For NHLBI research investigators who need to find, access, share, store, cross-link, and compute on large-scale datasets, NHLBI BioData Catalyst will serve as a cloud-based platform providing tools, applications, and workflows to enable these capabilities in secure workspaces. NHLBI BioData Catalyst is a rationally organized digital environment that will accelerate efficient biomedical research and maximize community engagement and productivity through increased access to NHLBI data sets and innovative data analysis capabilities. By making these data sets accessible and usable to varied users, NHLBI BioData Catalyst will drive discovery and scientific advancement, leading to novel diagnostic tools, therapeutic options, and prevention strategies for heart, lung, blood, and sleep disorders.