Pi Day 2016 Schedule and Events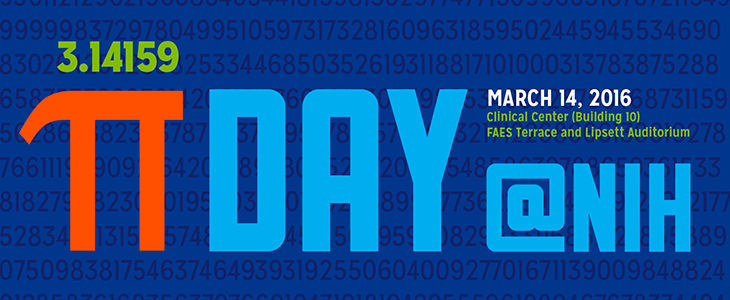 Celebrating the Intersection Between the Mathematical & Biomedical Sciences
NIH invites you to participate in our second annual celebration of Pi Day, on Monday, March 14, 2016, with a day of events and activities celebrating the intersection between the quantitative and biomedical sciences. Pi Day is an annual celebration of the irrational number Pi, 3.14..., on March 14.  On Pi Day and every day, NIH recognizes the importance of building a diverse biomedical workforce with the quantitative skills required to tackle future challenges.
Events
Tours of the Data Center (9am, Building 12/CIT, advanced registration required)
PiCo Lightning Talks 3 slides. 1 idea. 4 minutes. (10am-11am, Lipsett 

Auditorium

) videocast link
Posters/Demos and networking event with food provided by FAES and pies for puchase/donation (11am-1pm, FAES Terrace)
Data Science Distinguished Seminar Series 

–

 "Models and Data in Biomedicine: What's Real and What's Noise? And, Why Should We Care?" by Carlos Bustamante, Ph.D., Stanford University (1pm-2pm, Lipsett Auditorium) videocast link
Workshop on Reproducible Research – "Many Dimensions and Shared Responsibilities" by Lisa Meier McShane, Ph.D., National Cancer Institute (2:30pm-4:30pm, Lipsett Auditorium) videocast link
Pi Day Scholars Event for high school students and their teachers (all day)
And much more!
NIH Pi Day is hosted and organized by the NIH Office of the Director - Office of the Associate Director for Data Science, the National Institutes of Health Library, and the Office of Intramural Research along with all ICs. Additional support is provided by the Foundation for Advanced Education in the Sciences (FAES). If you/your IC would like to organize a new Pi Day event for the NIH community, contact Kristan Brown (NIH/OD) to have it listed here. Sign language interpreters can be provided. Individuals with disabilities who need reasonable accommodation to participate in this event should contact Kristan Brown, kristan.brown@nih.gov, 301-402-9818, or the Federal Relay, 800-877-8339. 
This page last reviewed on September 5, 2018