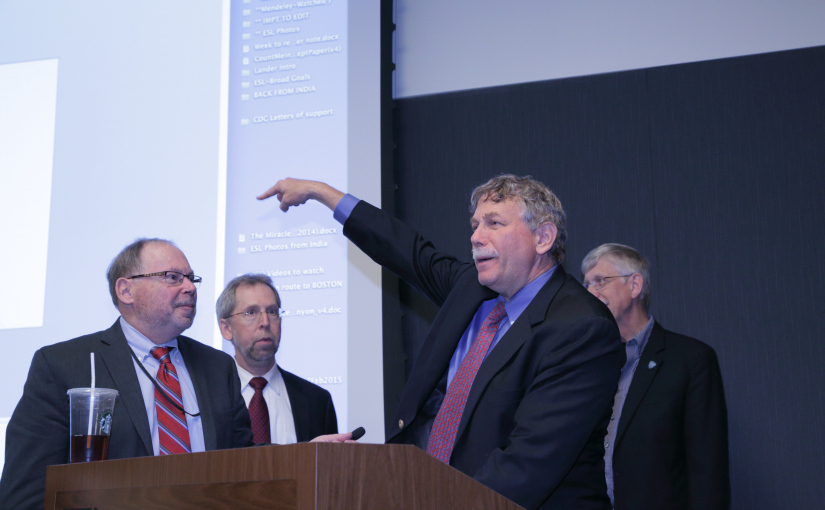 By Philip Bourne, Michelle Dunn
Last month we celebrated the Pi Day of the Century on the NIH campus. Although Pi Day is often used as an excuse to gorge on desserts, this time we used it as an excuse to ingest the contributions of mathematics to the biomedical sciences, put forth in a buffet of formats.
The buffet included
PiCo lightning talks. Scientists from across NIH described important ideas in mathematics, statistics, and the computational sciences.
Networking and poster session. Through posters about research and initiatives, NIH staff mingled and learned about computational and quantitative science. For example, one poster described a new initiative being formed on campus to do "code review" through small groups who collaboratively review one another's statistical code to improve its quality and accuracy.
Tours of the CIT data center. By visiting the NIH Data Center, NIH staff and local high school students and teachers learned first-hand about the high performance computing infrastructure at the NIH. The high school students and teachers also got to participate in interactive session with scientists to learn about cutting-edge work.
A workshop on reproducible research. To educate the intramural research community, scientists and journal editors spoke about issues with data reproducibility in the scientific literature.
The "main course" on the buffet was an inspiring lecture by Dr. Eric Lander, Director of the Broad Institute of Harvard and MIT. Dr. Lander captivated an overflowing room and an overflowing overflow room with his presentation titled, The Quantitative Future of the Biomedical Sciences. A video of the presentation is archived here. Starting with a story about his early experiences with international math competitions, Dr. Lander moved on to describe the math "under the hood" of genomic challenges, including the systematic discovery of the genomic basis of disease, interpreting the genome, and genome assembly and folding.
Addressing these challenges could not have been done with the machinery of mathematics and statistics. Some examples of techniques are
Orenstein-Uhlenbeck processes: stationary, Gaussian, Markovian stochastic processes used to model the behavior of log-odds scores.
The expectation-maximization algorithm: a statistical technique to find maximum likelihood estimates when some data are missing.
Large deviation statistics applied to multiple testing: tools, such as the Chen-Stein theorem, used to determine how surprised one should be about a particular p-value in light of the fact that millions of comparisons have been made.
Fractals: patterns that exhibit self-similitude (i.e., the basic pattern is repeated at every scale), used to model to the genome and other natural phenomena.
High dimensional data methods: multiple methods for reducing the number of dimensions, including principal components analysis. These methods are particularly important when the number of parameters exceeds the number of observations.
Mathematics has already played a huge role in biomedical discovery. That it will continue to play an important role is unquestionable, through both the development of new techniques and the application of existing ones. Biomedical science provides a plethora of interesting, high-impact problems for mathematicians and statisticians, particularly those who thrive on collaborating with others, enjoy translating ideas into software, and desire to improve human health.