Artificial Intelligence at NIH
About Artificial Intelligence at the NIH
The National Institutes of Health (NIH) makes a wealth of biomedical data available to research communities and aims to make these data findable, accessible, interoperable, and reusable—or FAIR. Additionally, the NIH seeks to make these data usable with artificial intelligence and machine learning (AI/ML) applications. Often described as computers "thinking like humans," AI/ML leverages computer models and systems to simulate intelligent or human-like decision-making.
These large and diverse datasets can create a broad new horizon for AI/ML, also creating the opportunity to use critical, data-driven discovery approaches to biomedical research. NIH has unique needs that can drive the development of novel approaches and application of existing tools in AI/ML. From electronic health record (EHR) data, omics data, imaging data, disease-specific data, and beyond, NIH is poised to create and implement large and far-reaching applications with AI and its components.
Featured Funding Opportunities
The Office of Data Science Strategy (ODSS) coordinates trans-NIH efforts in AI/ML to complement the advancements many of the 27 NIH institutes and centers are making in this area. Additionally, the NIH Common Fund's Bridge to Artificial Intelligence (Bridge2AI) program is working to address widespread adoption of AI. The NIH's Artificial Intelligence/Machine Learning Consortium to Advance Health Equity and Researcher Diversity (AIM-AHEAD) program aims to increase participation and representation of currently underrepresented communities in the development and adoption of AI/ML.
Initiatives to Advance AI for Biomedical Research
Resources
Milestones in Artificial Intelligence
Milestones in Artificial Intelligence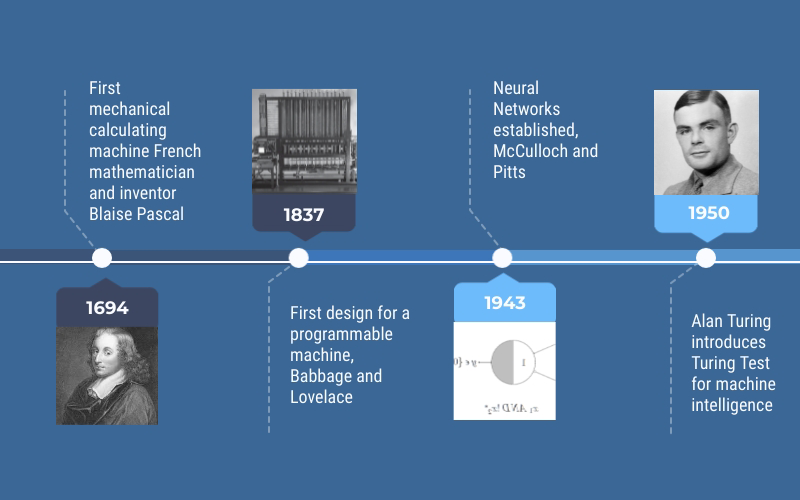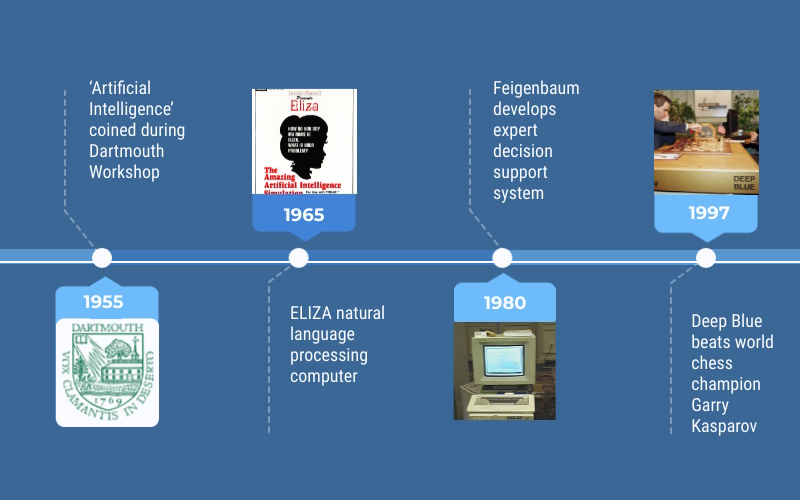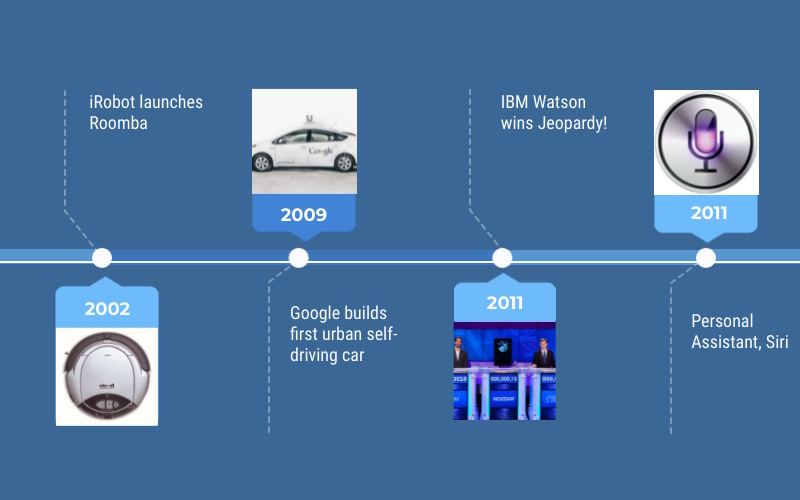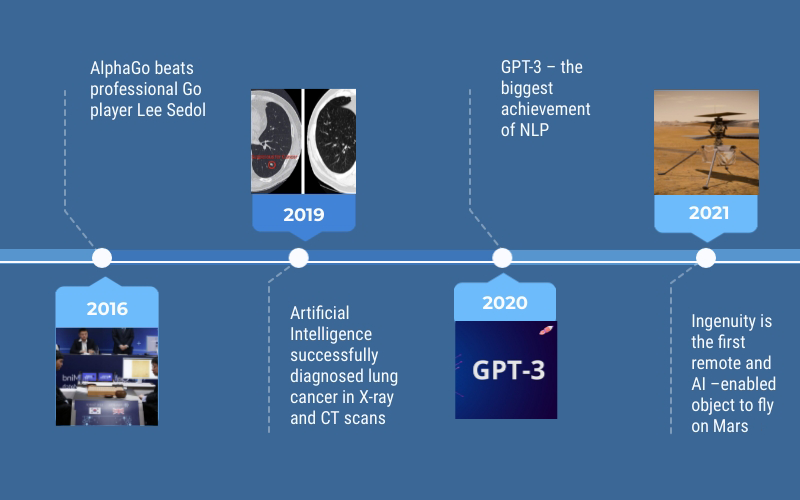 1694

First mechanical calculating machine, French mathematician and inventor Blaise Pascal
Image credit: Britannica.com

1837

First design for a programmable machine, Babbage and Lovelace
Image credit: hackerearth.com

1943

Neural Networks established, McCulloch and Pitts
Image credit: towardsdatascience.com

1950

Alan Turning introduces Turing Test for machine intelligence
Image credit: Britannica.com

1955

"Artificial Intelligence" coined during Dartmouth Workshop
By Source, Fair use, https://en.wikipedia.org/w/index.php?curid=14332488

1965

ELIZA natural language processing computer
Image credit: analyticsindiamag.com

1980

Feigenbaum develops expert decision support system

1997

Deep Blue beats world chess champion Garry Kasparov
Image credit: PRI.org

2002

iRobot launches Roomba
Image credit: iRobot.com

2009

Google builds first urban self-driving car
Image credit: wired.com

2011

IBM Watson wins Jeopardy!
Image credit: cbsnews.com

2011

Personal Assistant, Siri
Image credit: techcrunch.com

2016

AlphaGo beats professional Go player Lee Sedol
Image credit: alphago

2019

Artificial Intelligence successfully diagnosed lung cancer in X-ray and CT scans
Image credit: venturebeat.com

2020

GPT-3 — the biggest achievement of NLP
Image credit: crowdbioticsblog.com

2021

Ingenuity is the first remote and AI-enabled object to fly on Mars
Image credit: nasa.gov
View timeline as text
ai_resources
This page last reviewed on July 16, 2021