Artificial Intelligence at NIH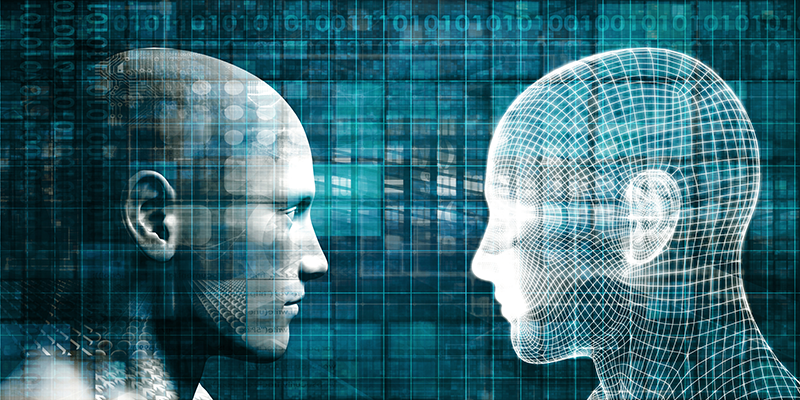 The National Institutes of Health (NIH) makes a wealth of biomedical data available to research communities and aims to make these data findable, accessible, interoperable, and reusable—or FAIR. Additionally, NIH seeks to make these data usable with artificial intelligence and machine learning (AI/ML) applications. The ability to apply AI/ML techniques to biomedical research data has the potential to improve health and health care system operations, as well as increase the delivery of high-quality health care and positive patient health outcomes.
The National Institute of Biomedical Imaging and Bioengineering (NIBIB) defines AI and its components as: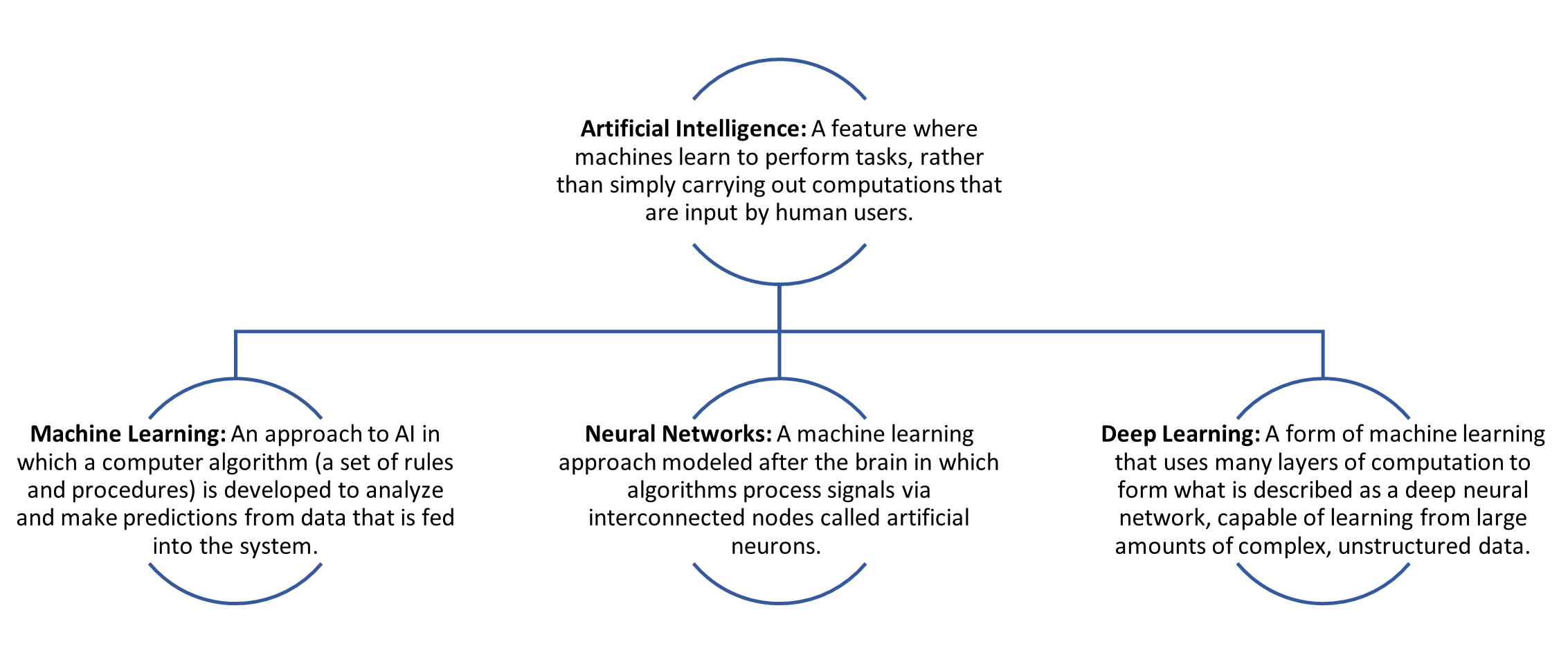 Large datasets are central to the integration of AI in science and medicine, but many lack data on race, ethnicity, and social determinants of health, including considerations around minority health and health disparities in epidemiologic studies and prevention, diagnostic, and treatment interventions using AI.
AI applications could be particularly beneficial in places with limited access to health care, such as patients and populations in middle and low resource areas. Researchers are exploring clinical applications of AI; clinicians use AI to continuously learn and understand their patients; patients use AI to better understand themselves; society uses AI to complement and enhance human intelligence, rather than replace it; policymakers regulate AI to ensure its ethical and safe use.
Artificial Intelligence Timeline
Artificial Intelligence Timeline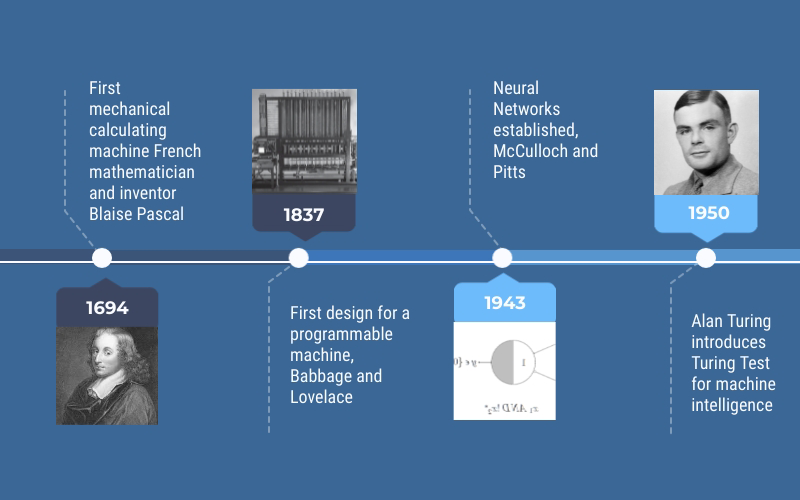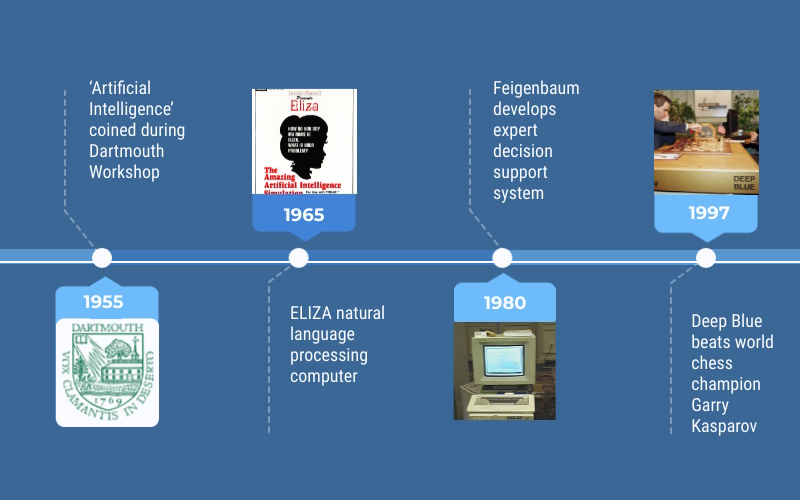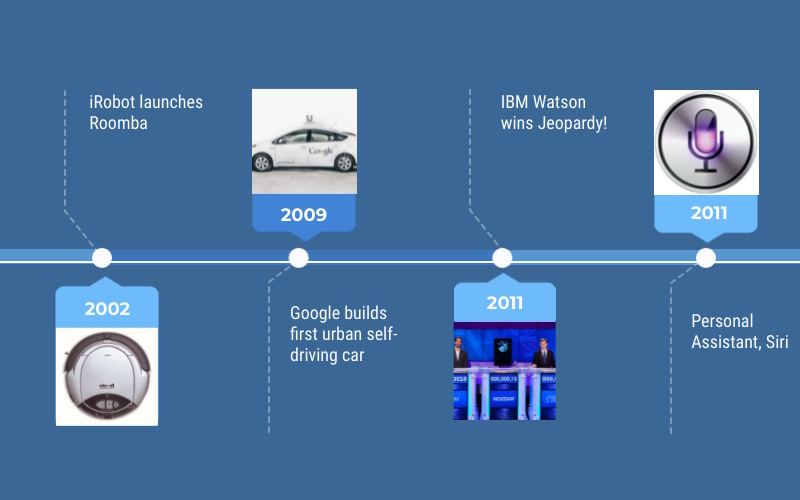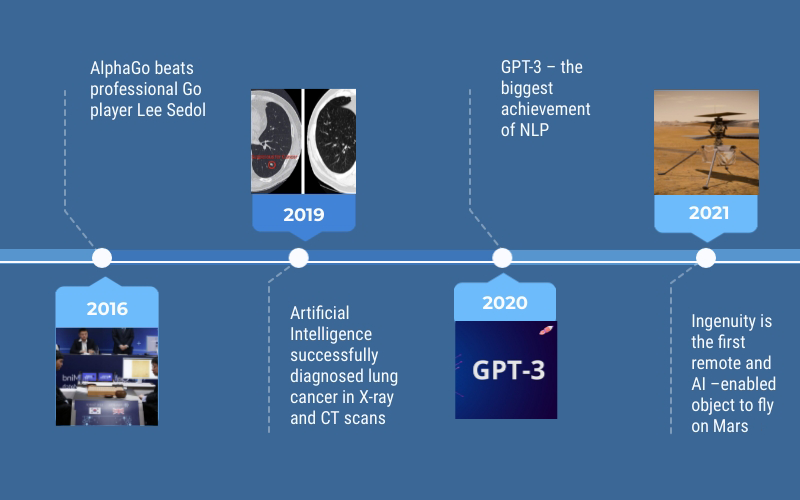 1694

First mechanical calculating machine, French mathematician and inventor Blaise Pascal
Image credit: Britannica.com

1837

First design for a programmable machine, Babbage and Lovelace
Image credit: hackerearth.com

1943

Neural Networks established, McCulloch and Pitts
Image credit: towardsdatascience.com

1950

Alan Turning introduces Turing Test for machine intelligence
Image credit: Britannica.com

1955

"Artificial Intelligence" coined during Dartmouth Workshop
By Source, Fair use, https://en.wikipedia.org/w/index.php?curid=14332488

1965

ELIZA natural language processing computer
Image credit: analyticsindiamag.com

1980

Feigenbaum develops expert decision support system

1997

Deep Blue beats world chess champion Garry Kasparov
Image credit: PRI.org

2002

iRobot launches Roomba
Image credit: iRobot.com

2009

Google builds first urban self-driving car
Image credit: wired.com

2011

IBM Watson wins Jeopardy!
Image credit: cbsnews.com

2011

Personal Assistant, Siri
Image credit: techcrunch.com

2016

AlphaGo beats professional Go player Lee Sedol
Image credit: alphago

2019

Artificial Intelligence successfully diagnosed lung cancer in X-ray and CT scans
Image credit: venturebeat.com

2020

GPT-3 — the biggest achievement of NLP
Image credit: crowdbioticsblog.com

2021

Ingenuity is the first remote and AI-enabled object to fly on Mars
Image credit: nasa.gov
View timeline as text
Trans-NIH Initiatives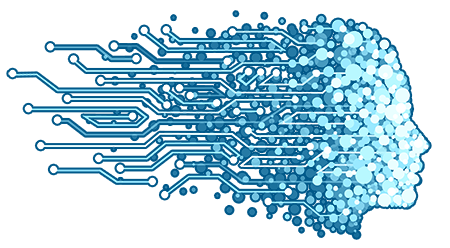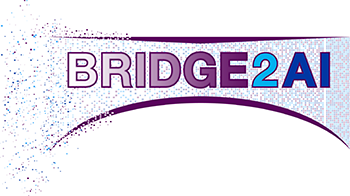 trans_nih_initiatives
Funded Research and Related Activities
Across NIH's 27 institutes and centers, AI/ML technologies are being developed
to detect and predict disease progression.
for personalized therapies.
for precision control (e.g., prosthetics).
for automated monitoring of health.
to identify risk and target intervention.
for basic research (e.g., improving genome annotations with proteomic data).
for use in healthcare.
Below are some specific examples:
NIH Initiatives
National Human Genome Research Institute (NHGRI)
National Institute on Aging (NIA)
Eunice Kennedy Shriver National Institute of Child Health and Human Development (NICHD)
National Institute on Drug Abuse (NIDA)
National Institute of Mental Health (NIMH)
funded_research_and_related_activities
News, Events, and Publications
​News
Events
Publications
news_events_and_publications
This page last reviewed on May 1, 2021