GREI Collaborative Webinar Series on Data Sharing in Generalist Repositories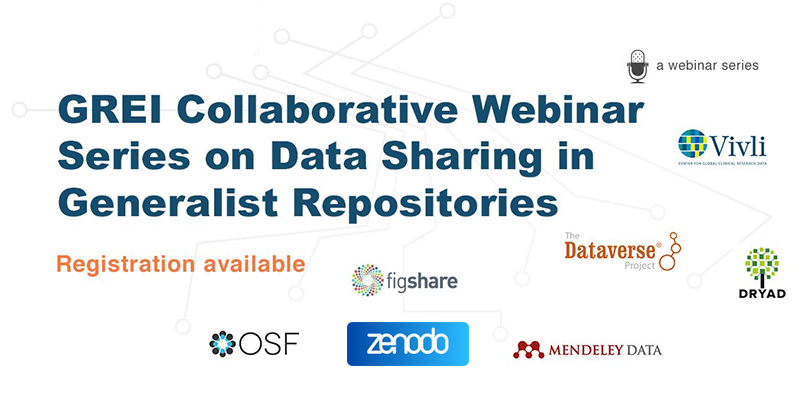 Join us for a series of presentations and panel discussions by generalist repositories to learn about available repository resources and best practices for sharing NIH-funded research.
Presented by the members of the NIH Generalist Repository Ecosystem Initiative (GREI): Dryad, Dataverse, Figshare, Mendeley Data, Open Science Framework, Vivli, and Zenodo. 
Best practices for sharing data in a generalist repository: Metadata, data preparation, and reporting

Thursday, December 8 at 3pm ET / Noon PT
This webinar will introduce best practices for sharing NIH-funded data in generalist repositories including tips and guidance for generating high quality metadata to describe your data, preparing data files and documentation for sharing, considerations for data licensing and privacy, and reporting on open data and metrics.
Register at: https://cos-io.zoom.us/webinar/register/WN_h1jLU5ilRv2RzmVui2T5VQ
Speakers:
Sonia Barbosa (Dataverse)
Sarah Lippincott (Dryad)
Eric Olson (Open Science Framework)
Ida Sim (Vivli)
Moderated by Anita de Waard (Mendeley Data)
Access summaries, recordings, and slides from previous webinars in this series.
This page last reviewed on November 15, 2022