Monday, March 22, 2021
AMIA Virtual Informatics Summit 2021
March 22–25, 2021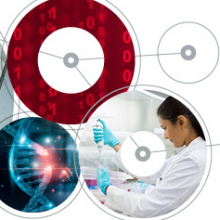 The COVID-19 health crisis has highlighted the critical importance of biomedical and health informatics research, as the world attempts to manage the rippling effects of this outbreak. The government, healthcare industry, policy makers, medical practitioners, and all relevant stakeholders now, more than ever, recognize the need for data sharing, data harmonization and methods and tools to increase the pace and efficiency of discovery. What has the COVID-19 pandemic taught us about the intelligent deployment of healthcare informatics? Are there lessons we can apply to our specific fields of research?
The AMIA 2021 Virtual Informatics Summit is the ideal venue to learn about best practices, new methodologies and shared challenges in four main areas: Translational Bioinformatics, Clinical Research Informatics, Implementation Informatics, and Data Science.
If you are a physician, scientist, student, economist, analyst, policy maker and/or entrepreneur, you should participate in this one-of-a-kind event, where countless collaborations are formed, complex challenges are discussed, and innovative research is presented.