Wednesday, December 18, 2019
Apply Now for the Single Cell in the Cloud Codeathon in New York City
Applications Due Dec. 30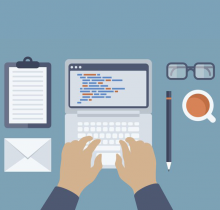 Applications are now available for a single-cell focused codeathon hosted by the National Center for Biotechnology Information to be held Jan. 15 -17, 2020, at the New York Genome Center in New York City.
Codeathons allow researchers and data scientists from different communities to share their expertise and collaborate on solving real biomedical data challenges. Researchers and data scientists at any stage of their data science journey are encouraged to apply. Teams will greatly benefit from people who possess any of the following skills:
analyzing single cell data types.
working knowledge of scripting (e.g., Shell, Python, R).
familiarity with methods for manipulating and/or analyzing large datasets.
developing bioinformatics code, pipelines or tools.
data visualization.
There is no registration fee associated with attending this event, and no financial support is available for travel, lodging, or meals. Attendees must bring their own laptops.
To apply, please complete the application form by Dec. 30, 2019. Contact Allissa Dillman if you have questions or need more information.