Tuesday, November 15, 2022
Data Curation Network – Event Series
Event 3: Applying the CURATE(D) Model for Data Curation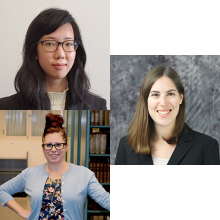 November 15, 2022, 1:00 P.M.-4:00 P.M. EST (Open Event)
This workshop, geared toward researchers and information professionals, will provide an overview of appraising and preparing research data for the purpose of data sharing through the Data Curation Network's CURATE(D) model. During this half-day learning opportunity, attendees will:
Increase their understanding of data curation practices to make data more Findable, Accessible, Interoperable, and Reusable (FAIR).
Apply the CURATE(D) model to a data deposit.
Meet like-minded colleagues who are interested in developing or enhancing curation practices at their institutions.
This will be an interactive workshop with breakout rooms and small group activities. Attendees will need access to appropriate technology (computer, microphone, webcam, speakers/headphones, web browsers, high speed internet) and come prepared to participate.