Tuesday, October 8, 2019
Learn More about the NIH's Encouragement of the FHIR Standard for Research
Free Webinar on October 8 at 2 p.m. EDT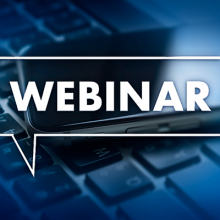 Want to learn more about why the National Institutes of Health is encouraging the Fast Healthcare Interoperability Resources (FHIR) standard for research? Register now for a free webinar, which will be held Tuesday, Oct. 8, 2019, from 2-3 p.m. EDT.
Two speakers will discuss the NIH's decision to promote the use of FHIR in electronic health records systems:
Clem J. McDonald, M.D.
Chief Health Data Standards Officer, National Library of Medicine, NIH
Teresa Zayas-Cabán, Ph.D.
Chief Scientist, Office of the National Coordinator for Health Information Technology
FHIR Acceleration Coordinator, National Library of Medicine, NIH
In July, the NIH issued a notice about the FHIR standard used to exchange clinical data between information systems. The announcement encourages NIH-funded researchers to use FHIR-compatible data formats to help accelerate the interoperability of data and its use for clinical research purposes.
Drs. McDonald and Zayas-Caban will share ways that the NLM is seeking input from stakeholders about this notice and describe the future capabilities of biomedical research made possible by using FHIR.
The Combining Technology, Scientific Research, and Data—The NIH's Encouragement of the FHIR Standard for Research webinar is hosted by the Association of American Medical Colleges and the American Medical Informatics Association and will be moderated by Ed Hammond, Ph.D., director of the Duke Center for Health Informatics within the Clinical and Translational Science Institute at Duke University.
Registration link: https://aamc.elevate.commpartners.com/p/191008_FHIR