Tuesday, September 29, 2020
Harnessing Novel Data Sources and Technologies for the Study of Social Determinants of Health in Heart, Lung, Blood, and Sleep Disorders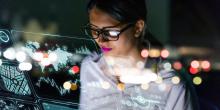 NIH's National Heart, Lung, and Blood Institute is hosting a virtual workshop, "Harnessing Novel Data Sources and Technologies for the Study of Social Determinants of Health (SDOH) in Heart, Lung, Blood, and Sleep Disorders," September 29-30, 2020. During the event, participants will explore digital technology to create novel data sources, leverage that technology for SDOH research, examine unintended consequences from technology use, and discuss implementation strategies to put the new technologies into action.
The event is free and open to the public, but registration is required.
Register now or learn more about the workshop, including an agenda and scheduled speakers: https://go.usa.gov/xG2wm.