Sunday, July 10, 2022
ISMB 2022
July 10–14, Madison, Wisconsin or Virtual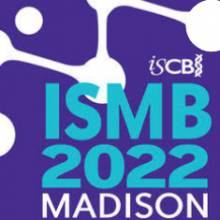 Source: iscb.org
The annual international conference on Intelligent Systems for Molecular Biology (ISMB) is the flagship meeting of the International Society for Computational Biology (ISCB). The 2022 conference is the 30th ISMB conference, which has grown to become the world's largest bioinformatics/computational biology conference.
ISMB 2022 offered both in-person and virtual attendance in Madison, Wisconsin, July 10-14 at Monona Terrace Convention Center or virtually in a state of the art virtual interface.
ISMB brings together scientists from computer science, molecular biology, mathematics, statistics and related fields. Its principal focus is on the development and application of advanced computational methods for biological problems.
Learn more about the conference