Friday, January 31, 2020
Metadata Automation DREAM Challenge is Open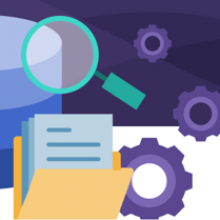 The Metadata Automation DREAM Challenge is open for registration. Using structured biomedical data files, participants will develop solutions that apply existing research data annotations (e.g., Cancer Data Standards Registry and Repository (caDSR) Common Data Elements [CDEs] and other terminologies and ontologies) to help automate the annotation of metadata fields and values.
Having accurate, complete, and consistent metadata is essential for research as it enables comparison of data from a wide range of studies. Automating this task is a critical next step in advancing scientific discovery across NCI initiatives, such as the NCI Cancer Research Data Commons.
Challenge participants can test their tools using synthetic data generated from caDSR CDEs, the Applied Proteogenomics Organizational Learning and Outcomes (APOLLO), and The Cancer Imaging Archive (TCIA) datasets, as well as other publicly available resources.
Winners of the challenge will be announced in early May 2020.
This challenge is supported by funding through the Cancer Moonshot℠.