Thursday, October 14, 2021
Metrics for Data Repositories and Knowledgebases: Working Group Report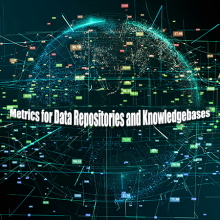 The National Institutes of Health (NIH) Data Resources Lifecycle and Metrics Working Group and Metrics for Repositories (MetRe) subgroup have released "Metrics for Data Repositories and Knowledgebases: A Working Group Report". This report presents the findings of an exploration of the current landscape of biomedical data repository metrics. The work was carried out in two phases consisting of a small pilot (phase 1) and a public survey (phase 2).
Below is an excerpt from the report:
"This report includes input from representatives of 13 NIH repositories from Phase 1 and 92 repository managers in Phase 2. The metrics these respondents reported using are divided into several broad categories, including (from most to least commonly collected) User Behavior Characteristics, Scientific Contribution/Impact, and Repository Operations, and the respondents from the two groups reported similar patterns in the metrics they collect. The majority of respondents (77%) also indicated a willingness to share their metrics data – an encouraging finding given that such metrics can be helpful to NIH in better understanding how datasets and repositories are used."
Learn more about biomedical data repositories and knowledgebases.