Tuesday, December 17, 2019
NCATS Day on Responsible Data Sharing on Dec. 17
Register by Dec. 12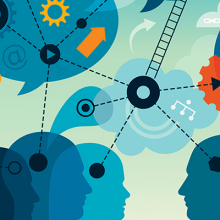 The National Center for Advancing Translational Sciences (NCATS) will host its annual NCATS Day on Dec. 17, 2019, in the Natcher Conference Center in Building 45 at the NIH's main campus in Bethesda, Md. This year's topic is "Conversations on Responsible Data Sharing." Members of the community are invited to join NCATS staff for a full day of thoughtful discussion, perspectives, and insights into data sharing in the translational science community.
The collection and analysis of data is important for translating research results into new prevention strategies and treatments, that can improve human health. Sharing of scientific data helps validate research results, enables researchers to combine data types to strengthen analyses, facilitates reuse of hard to generate data or data from limited sources, and contributes to ideas for future research directions. Central to data sharing is the recognized need to make it as available as possible while ensuring the confidentiality and autonomy of research participants.
NCATS is committed to placing patients and their communities at the center of all its efforts and looks for opportunities to include the patient perspective. At NCATS Day 2019, attendees will discuss data sharing from different viewpoints, including the research participant, community, researcher, federal funder, and industry. It is important to hear different perspectives and participate in a dialogue that includes stakeholders from diverse backgrounds.
Be a part of this important conversation –register now to attend NCATS Day 2019. In-person registration is limited.