Tuesday, November 26, 2019
Project Proposals for Single Cell in the Cloud Codeathon Due Dec. 2
Event to be held Jan. 15-17, 2020 in New York City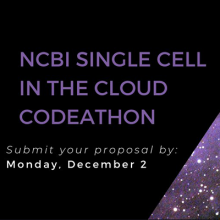 Calling all coders! A Single Cell in the Cloud codeathon will be held Jan. 15-17, 2020, in New York City and is hosted by the National Center for Biotechnology Information (NCBI) and the New York Genome Center. This codeathon will focus on single cell data including RNA, DNA, and chromatin accessibility.
Project proposals are due Dec. 2; NCBI is seeking proposals for pipelines and analysis of SRA data, data interoperability and normalization techniques, and machine learning in clustering. Proposals for tutorial pipelines and educational tools are also welcome.
Submitters are welcome to lead a team or recommend a team lead to increase their chances for project selection. During the codeathon, team leads are responsible for coordinating a team of five to six people assembled by NCBI staff to define the project and produce a clear vision for developing a solution. This will include defining and delegating tasks, incorporating team members' ideas, and ensuring the team's success. Attendance is required for the full three days of this event.
For examples of past codeathons, visit the NCBI Github. For additional information, please contact Allissa Dillman.