Wednesday, August 26, 2020
NCI's Center for Biomedical Informatics and IT Seeks Associate Director for Informatics and Data Science
Apply by Sept. 21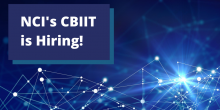 Do you have experience leading diverse, highly complex bioinformatics or data science programs in cancer research, overseeing significant resources, and advising on the research and development of informatics and data science technologies? If so, consider joining the National Cancer Institute's Center for Biomedical Informatics and Information Technology (CBIIT) as an Associate Director for Informatics and Data Science in CBIIT's Informatics & Data Science Branch.
In this role, you'll provide scientific expertise and strategic vision for CBIIT, manage an operational budget of $57 million, lead nearly 300 staff, and oversee a $24 million extramural contract portfolio of 29 complex biomedical informatics awards. You'll also oversee a portfolio of programs and projects including the Cancer Research Data Commons, a cloud-based infrastructure that provides secure access to many different data types across scientific domains.
Learn more and apply by September 21, 2020.