Wednesday, September 25, 2019
New Request for Information Seeks Public Input on Using FHIR Standard for Research
Submissions Due November 23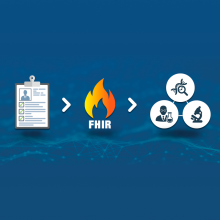 The Office of Data Science Strategy at the National Institutes of Health recently issued a Request for Information (RFI) seeking public input on how the Health Level Seven International (HL7®) Fast Healthcare Interoperability Resources (FHIR®) standard could be used for research purposes. 
FHIR is a standardized way of transmitting health data from one health information system to another through an application programming interface. Use of a standard such as FHIR could accelerate the use of clinical data for research. The FHIR standard is already broadly used in health care, and several federal health agencies are using FHIR to exchange data.
NIH would like to better understand researchers' experiences using FHIR, the extent to which researchers plan or do not plan to use FHIR, what tools may be needed to effectively use FHIR, the need for research regarding standards development, and opportunities and challenges with using FHIR. Comments to the RFI should be submitted electronically by Nov. 23, 2019. 
This RFI follows a Guide Notice (NOT-OD-19-122) that was issued on July 30, 2019, to encourage NIH-funded investigators to explore the use of FHIR to capture, integrate, and exchange clinical data for research purposes and to enhance capabilities to share research data.  Additionally, NIH issued a notice (NOT-OD-19-127) to small business communities announcing its special interest in supporting applications that use FHIR in the development of health IT products and services.