Monday, March 22, 2021
NIDA Data Science Careers Seminar Series: Bringing Data Science to Addiction Research
Session 2 - March 22, 2021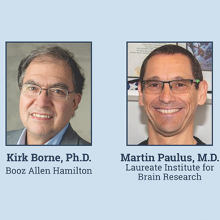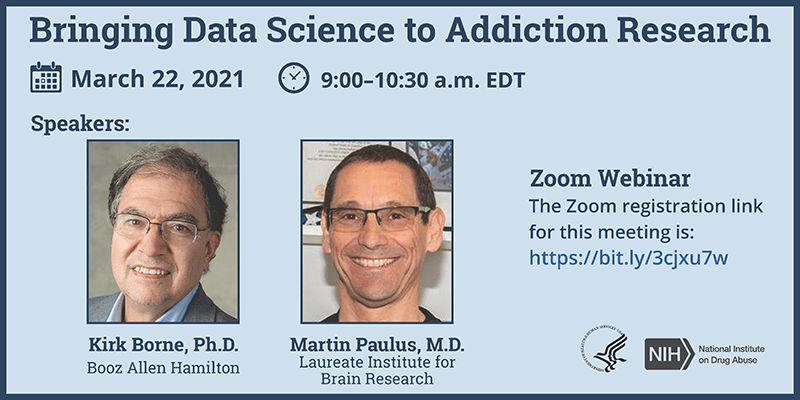 NIDA will be hosting a 4-part Data Science careers seminar series this spring titled Bringing Data Science to Addiction Research. The goal of this seminar series is to highlight the career paths of prominent data scientists and inspire a new generation of data science researchers who focus on addiction.
This series will take place on the following dates from 9:00-10:30am EDT (Please note that this is during Daylights Savings Time): March 15th, March 22nd, March 29th, and April 5th. A separate registration will be required for each session.

Contact Dr. Susan Wright at susan.wright@nih.gov with any questions.
The second seminar will have two speakers, Dr. Kirk Borne and Dr. Martin Paulus, on March 22nd from 9:00-10:30am EDT.
Register for this session at https://bit.ly/3cjxu7w
Dr. Kirk Borne is the Principal Data Scientist, Data Science Fellow, and an Executive Advisor at global technology and consulting firm Booz Allen Hamilton since 2015. He provides thought leadership, mentoring, training, and consulting activities in data science, machine learning, and AI across multiple disciplines. Previously, he was Professor of Astrophysics and Computational Science at George Mason University for 12 years in the graduate and undergraduate data science programs. Prior to that, he spent nearly 20 years supporting data systems activities for NASA space science programs, including a role as NASA's Data Archive Project Scientist for the Hubble Space Telescope. Dr. Borne has degrees in physics (B.S., LSU) and astronomy (Ph.D., Caltech). He is an elected Fellow of the International Astrostatistics Association for his contributions to big data research in astronomy. In 2020, he was elected a Fellow of the American Astronomical Society for lifelong contributions to the field of astronomy. As a global speaker, he has given hundreds of invited talks worldwide, including keynote presentations at dozens of data science, AI and analytics conferences. He is an active contributor on social media, where he promotes data literacy for all and has been named consistently among the top worldwide social influencers in big data, data science, machine learning, and AI since 2013.
LinkedIn profile: https://bit.ly/30Blysp and Twitter @KirkDBorne
Dr. Paulus has been the Scientific Director and President of the Laureate Institute for Brain Research (LIBR) in Tulsa, OK since May 2014. Prior he had been a Professor in the Department of Psychiatry at the University of California San Diego and the Director of Telemental Health at the Veterans Affairs San Diego Health Care System. Dr. Paulus has a Google Scholar h-index of 101 and has published over 400 peer-reviewed manuscripts. Dr. Paulus is the Deputy Editor of JAMA Psychiatry, a Series Editor for Current Topics in Behavioral Neuroscience, and is on several editorial boards of top-tier psychiatric journals. He has served on numerous NIH and International Study Sections and is currently on the National Institute of Mental Health Board of Scientific Councilors. The goal for LIBR is to identify disease-modifying processes (DMP) based on circuits, behavior, or other levels of analysis, which – when modulated – change (1) the risk for, (2) the severity of, or (3) the recurrence of a disease such as mood, anxiety, or substance use disorder. Dr. Paulus' program of research is to delineate DMPs and provide pathways towards the development of process-specific transdiagnostic interventions that have pragmatic utility, i.e. improve a patient's condition faster with fewer side effects and fewer recurrences, and explanatory value, i.e. refine our understanding of the causal relationships between specific processes and a mental health condition.
LinkedIn profile: https://bit.ly/3eu0Q61 and Twitter @mpwpaulus