Monday, December 16, 2019
NIH to Host Informational Webinar on the Draft NIH Policy for Data Management and Sharing and Supplemental Draft Guidance on Dec. 16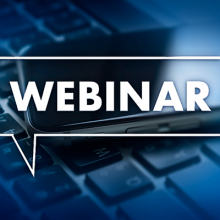 NIH will be hosting an informational public webinar on the Draft NIH Policy for Data Management and Sharing and Supplemental Draft Guidance on Monday, Dec. 16, 2019, from 12:30 – 2 p.m. ET. The purpose of this webinar is to provide information on the draft policy and answer any clarifying questions about the public comment process. Public comments will not be accepted via the webinar but must instead be sent through the link provided below.
Instructions for Accessing the Webinar:
To view the webinar presentation, please click here.
To call in to the webinar:

U.S. and Canadian participants can dial: 866-844-9416 and enter passcode: 4009108

For international participants, please refer to the table of toll-free numbers found here.
Please note that while you will able to view the webinar through Webex, you must use the specified phone line to be connected to the audio. You will be unable to call-in via your computer.
Participants may also send questions in advance of the webinar to SciencePolicy@od.nih.gov
Comments on the draft policy and draft supplemental guidance can be made electronically here through Friday, January 10, 2020.