Thursday, January 5, 2023
NIH Virtual Workshop: Near-term Applications of Quantum Sensing Technologies in Biomedical Sciences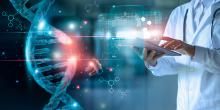 There are increasing coordinated efforts in quantum technology research and development in the United States (National Quantum Initiative) and across the world. Examples of quantum sensing technologies include diamond color center sensors, optically pumped magnetometers, quantum photonics and non-classical interferometry, and biosensors. However, the application potential of emerging quantum sensing technologies for biomedicine is not fully understood.
This NIH virtual workshop aims to stimulate discussions to identify unique and timely opportunities in developing quantum sensing and quantum enabled sensing technology applications in biological and biomedical domains by engaging stakeholders from industry, academia, government research labs, and funding agencies. This meeting will center near-term quantum sensing technology applications that are ripe for focused development of emerging quantum sensing technologies (where prototypes or proof of principle exist) or exploratory applications of mature quantum sensing technologies for addressing important biomedical problems where minimal additional research and development efforts are required.
PANEL SESSIONS: Three panels are organized based on maturation stages of quantum sensing technologies. Each panel session will have a set of talks followed by discussion across levels of technology maturation. Panel discussion will address near-term applications of quantum sensing technologies for biomedical and life sciences.
Panel 1 will explore real-world life science applications of mature stage technologies.
Panel 2 will discuss near-term (~5 years) potential applications and further development of prototype stage quantum technologies with proof of principle and are past R&D stage.
Panel 3 will discuss near-term ( ~5 years) and long term (~10 years) potential applications of early- stage technologies that are in R&D stage.
Contact for this workshop: Geetha Senthil, NIH
Meeting was organized by:
Quantum Sensing Meeting Planning Committee, NIH Quantum Information Science Working Group including members from various Institutes at NIH, as well as experts from Department of Energy (DOE), National Science Foundation (NSF), and Institute of Standards and Technology(NIST)
Chairs of the Workshop:  Ronald Walsworth, University of Maryland, Marty Stevens, (NIST), Janette Strasburger, Medical College of Wisconsin.
View Agenda
Hide Agenda
AGENDA
Time
Event

Chairs: Ronald Walsworth, Ph.D.; Janette Strasburger, M.D.; Marty Stevens, Ph.D.;

11:00 – 11:05 am

Opening Remarks NIH
Geetha Senthil, National Institute of Mental Health (NIMH)
Susan Gregurick, Office of Data Science Strategy (ODSS)
Joni Rutter, National Center for Advancing Translational Sciences (NCATS)

11:05 – 11:10 am

Office of Science and Technology Policy (OSTP)
Charles Tahan, National Quantum Coordination Office within the White House Office of Science and Technology Policy
Gretchen Campbell, Deputy Director of National Quantum Coordination Office within the White House Office of Science and Technology Policy 

11:10 – 11:30 am

Workshop Introduction and Keynote Talk:
Ronald Walsworth, University of Maryland 
Marty Stevens, National Institute of Standards and Technology
Janette Strasburger, Medical College of Wisconsin

11:30 am – 1:25 pm

PANEL 1: Mature Quantum Technologies with Demonstrated Applications in Biomedical Sciences

This panel will provide an overview of use of quantum sensing technologies to aid life sciences. These include more mature technologies, including optically pumped magnetometers (OPMs) for magnetic encephalography (MEG) and magnetocardiography (MCG), spectroscopy, and emerging technologies on diamond sensors, etc.    

11:30 – 11:40 am

Low field MRI and ultra-low field NMR - Translation to Clinic
Matthew Rosen, Massachusetts General Hospital

11:40 – 11:50 am
Quantum Technologies for Magnetoencephalography in Adult Brain Imaging     
Matthew Brookes, The University of Nottingham, UK Quantum Technology Hub
11:50 – 12:00 pm

Optically Pumped Magnetometers for Fetal Magnetocardiography (fMCG)
Ron Wakai, University of Wisconsin

12:00 – 12:10 pm

Clinical Application of Optically Pumped Magnetometers for Pediatric Epilepsy
Arjan Hillebrand, Vrije Universiteit Amsterdam

12:10 – 12:20 pm

Use Case of High-Resolution Diamond Color Center Based Benchtop Instrument for Emerging Biomedical Diagnostics
Colin Connolly, Quantum Diamond Technologies, Inc. (QDTI)

BREAK
5 min – Patient Case Studies
12:25 – 1:25 pm
PANEL 1 DISCUSSION (Q&A)

This Panel will discuss unmet needs/opportunities and challenges in the use of mature quantum sensing technologies for clinical applications and to aid life sciences research.

Panel Chairs:

Janette Strasburger, Medical College of Wisconsin
Thad Walker, University of Wisconsin – Madison

Panelists: 

Orang Alem, FieldLine, Inc., University of Colorado Boulder
Matthew Brookes, The University of Nottingham, UK Quantum Technology Hub
Colin Connolly, Quantum Diamond Technologies, Inc.
Hari Eswaran, University of Arkansas for Medical Sciences
Arjan Hillebrand, Vrije Universiteit Amsterdam
Spyros Kitsiou, University of Illinois Chicago
Matthew Rosen, Massachusetts General Hospital
Peter Schwindt, Sandia National Laboratories, The University of New Mexico
Vishal Shah, QuSpin. Inc.     
Annette Wacker-Gussmann, Technische Universität München
Ron Wakai, University of Wisconsin
Jonathan Hoffman, DARPA

Summarizers:

Bettina Cuneo, Children's Hospital Colorado
Theodore Goodson, University of Michigan

BREAK
15 min Clinical Case studies MEG - Annette Wacker and MCG – Bettina Cuneo/Elijah Bolin  (pre-recorded)
1:40-3:30 pm
PANEL 2: Prototype Stage Quantum Technologies with Demonstrated Proof of Principle Use Cases

This panel will provide an overview of prototype state quantum sensing technologies and their potential uses to aid life sciences

Diamond Color Sensors

1:40 – 1:55pm

Diamond NMR Spectrometer for Microfluidic Metabolite Profiling for Rapid Analytical Diagnostics using NV Centers in Diamond
Janis Smits, University of New Mexico

1:55 –2:10 pm
Quantum Nanodiamonds for Rapid, Sensitive, Low-Cost Diagnostics for Virus Detection and Flow Assays
Rachel McKendry, London Centre for Nanotechnology

Quantum enabled/enabling sensing technologies

2:10 – 2:25 pm 

Frequency Comb Breath Analyzer
David Nesbitt, JILA, University of Colorado Boulder and NIST

2:25 – 2:40 pm 

Single Photon Detectors: New Wavelength Ranges, Arrays
Matt Shaw, Jet Propulsion Laboratory, California Institute of Technology

2:40 – 3:30 pm
PANEL 2 DISCUSSION (Q&A), 50 min

This Panel discussion will identify the gaps between technology and practice, stakeholders from the biomedical side to engage with the physicists to help shape the development or spanning technology and applications gaps.

Panel Chairs:

Nathalie de Leon, Princeton University
Ronald Walsworth, University of Maryland

Panelists:

Adam Cohen, Harvard University
Bruno De Man, GE Research
Hoi-Ying Holman, Lawrence Berkeley National Laboratory
Rachel McKendry, London Centre for Nanotechnology, University College London
Carlos Meriles, The City College of New York
David Nesbitt, JILA
Timothy Roberts, Children's Hospital of Philadelphia
Romana Shirhagl, University of Gronigen     
Matt Shaw, California Institute of Technology
Janis Smits, University of New Mexico
Rob Tycko, National Institute of Diabetes and Digestive and Kidney Diseases

Summarizer:
Marty Stevens, National Institute of Standards and Technology
BREAK

10 min - Clinical Case studies MEG - Annette Wacker and MCG – Bettina Cuneo/Elijah Bolin  (pre-recorded)

3:40 – 5:30 pm 
PANEL 3: Emerging Quantum Sensing Technologies

Provide an overview of early state quantum sensing technologies and their potential uses to aid life sciences in the near term (5 years) and long term (5-10 years).

Emerging Quantum Sensing Technologies (15 min talks)

3:40 – 3:55 pm

Challenges and Opportunities in Brain Imaging
John Ngai, National Institute of Neurological Disorders and Stroke

3:55 – 4:10 pm 

Novel Sensing and Imaging Modalities
Peter Maurer, The University of Chicago

4:10 – 4:25 pm

Quantum Photonics: Sensing Technologies Based on Entangled Photon Light Sources
Brain Smith, University of Oregon

4:25 – 4:40 pm

Novel NMR Quantum Sensors via Hyperpolarized Nuclei
Ashok Ajoy, University of California Berkeley

4:40 – 5:30 pm
PANEL 3 DISCUSSION (Q&A), 50 min

FOCUS:  Discussion of the gaps between technology and practice, stakeholders from biomedical side to engage with the physicists to help shape the development or spanning technology and applications gaps.

Panel Chairs:

Theodore Goodson, University of Michigan
Olga Shenderova, Adamas Nanotechnologies

Panelists:

Nathalie Adolphi, The University of New Mexico
Ashok Ajoy, University of California Berkeley
Greg Engel, The University of Chicago
Mikhail Lukin, Harvard University
Peter Maurer, The University of Chicago
Keir Neuman, National Heart, Lung, and Blood Institute
John Ngai, BRAIN Initiative, National Institute of Neurological Disorders and Stroke
Brian Smith, University of Oregon
Michael Reimer, University of Waterloo, Canada
Marty Stevens, National Institute of Standards and Technology
Danna E. Freedman, Massachusetts Institute of Technology​

Summarizer: 

Janis Smits, University of New Mexico

5:30 pm
ADJOURN