Tuesday, July 30, 2019
Office of Data Science Strategy Releases NIH Guide Notice and Notice of Special Interest Encouraging Use of FHIR® Standard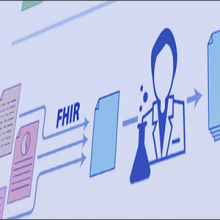 The Office of Data Science Strategy at the National Institutes of Health recently issued a Guide Notice encouraging NIH researchers to explore the use of the Fast Healthcare Interoperability Resources (FHIR®) standard to capture, integrate, and exchange clinical data for research purposes and to enhance capabilities to share research data.
The office also issued a Notice of Special Interest (NOSI) to encourage Small Business Innovation Research and Small Business Technology Transfer applicants and awardees to develop FHIR® standard in the development of health information technology products and services. The NOSI has a first available due date of Sept. 5, 2019, and expires April 6, 2020.
Learn more about why FHIR has been adopted by hospital systems, industry, and the research communities from National Library of Medicine Director Patti Brennan.