Wednesday, January 16, 2019
A Request for Proposals (RFP) has been released to build the National Cancer Institute's (NCI) Imaging Data Commons (IDC).
The IDC will be a cloud-based data repository that makes a wide variety of images and imaging data types available to the research community.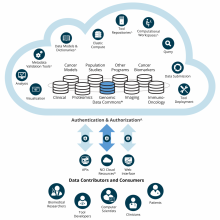 CBIIT
The IDC will be a component of the NCI Cancer Research Data Commons (CRDC), a virtual, expandable infrastructure that provides secure access to many different data types across scientific domains, allowing users to analyze, share, and store results, leveraging the storage and elastic compute of the cloud.
The deadline to submit a proposal is Thursday, January 31, 2019, at 12:00 p.m. ET.
Information about the RFP and how to obtain the RFP documents can be found at https://go.usa.gov/xPhKW. For more information please contact Nick D'Abbraccio (nick.d'abbraccio@nih.gov).