Friday, January 31, 2020
A Request for Proposals (RFP) has been released to build the National Cancer Institute's (NCI) Cancer Data Aggregator.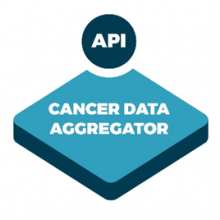 Frederick National Laboratory for Cancer Research requests proposals to develop a query engine called the Cancer Data Aggregator (CDA).  The CDA will allow users to aggregate data via queries across the Human Tumor Atlas Network, the NCI Cancer Research Data Commons (CRDC) nodes, and other Data Coordinating Centers (DCC) and repositories with which NCI plans to interoperate. 
The CDA is a critical component of the National Cancer Data Ecosystem, a key recommendation from the  from the Cancer Moonshotsm. Integrative cancer research is currently hampered by the fact that important datasets are stored in different repositories. The CDA will allow users to query across datatype-specific and program-specific repositories through a common data model, translating research results into knowledge to inform cancer treatment and discovery.
The deadline to submit the proposal is Tuesday, February 18. Information about the RFP and how to obtain RFP documents can be found on the Frederick National Laboratory Solicitations page.