Tuesday, March 16, 2021
Susan Gregurick, Ph.D. to Deliver Lecture at "Women Leaders in Academic Research" Series
Monthly series hosted by NIH Center for Interventional Oncology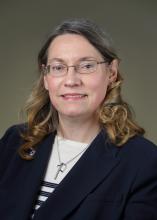 Leading the Way to a Modern Data Ecosystem: Stories of Women (and Men) Making an Impact in Data Science at NIH
Susan Gregurick, Ph.D., will deliver the March lecture at the "Women Leaders in Academic Research" series hosted by the National Institutes of Health (NIH) Center for Interventional Oncology on March 16 at 2 p.m. EDT. Gregurick is the NIH Associate Director for Data Science and Director, Office of Data Science Strategy. In this lecture, she will share her personal journey from "closet geek" to data science leader. She'll take a look back at memorable data science milestones that have led to where we are in data science today. Additionally, Dr. Gregurick will highlight other women leaders in data science at NIH to celebrate Women's History Month and showcase the team of people working toward a modern data ecosystem at the largest biomedical research agency in the world.
The lecture will be broadcast live at: https://videocast.nih.gov/watch=41742. The event is open to the public and no registration is required.
Series Description
Invited monthly lecture series highlighting and honoring women leaders in academic research, especially related disciplines of interventional radiology, biomedical engineering, radiology, imaging sciences, data science, and image-guided oncology. The honorary lecture series was established as a small effort to help counter the under-representation of women in academic research and the impact of gender disparity and implicit bias on role modeling and mentoring. Monthly topics are open-ended and are geared toward highlighting successful female or other under-represented academic leaders as role models for trainees.