Monday, June 1, 2020
"The TRUST Principles for Digital Repositories" Published in Scientific Data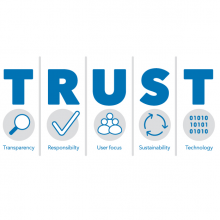 Many in the data science community are familiar with the FAIR principles—a set of principles to make data findable, accessible, interoperable, and reusable. Earlier this month NIH's Dr. Dawei Lin, a data scientist from NIAID, and colleagues published the community-developed TRUST principles to promote the adoption of Transparency, Responsibility, User focused, Sustainability, and Technology.  These principles are complementary to the FAIR principles and aim to promote TRUST for data repositories.
 "The TRUST Principles provide a common framework to facilitate discussion and implementation of best practice in digital preservation by all stakeholders," said Lin.
 Below is an excerpt of the paper, which can be read in full in Scientific Data.
"The FAIR Data Principles highlight the need to embrace good practice by defining essential characteristics of data objects to ensure that data are reusable by humans and machines: they should be Findable, Accessible, Interoperable, and Reusable, i.e. FAIR. However, to make data FAIR whilst preserving them over time requires trustworthy digital repositories (TDRs) with sustainable governance and organizational frameworks, reliable infrastructure, and comprehensive policies supporting community-agreed practices. TDRs, with their clear remit to actively preserve data in response to changes in both technology and stakeholder requirements, play an important role in maintaining the value of data."
Learn more about the development of the TRUST principles as a Research Data Alliance community effort.
Read about the TRUST-worthy Data Repositories Workshop held in April 2019 hosted by the NIH Office of Data Science Strategy.