NIH Cloud Platform Interoperability Effort
About the NIH Cloud Platform Interoperability (NCPI) Effort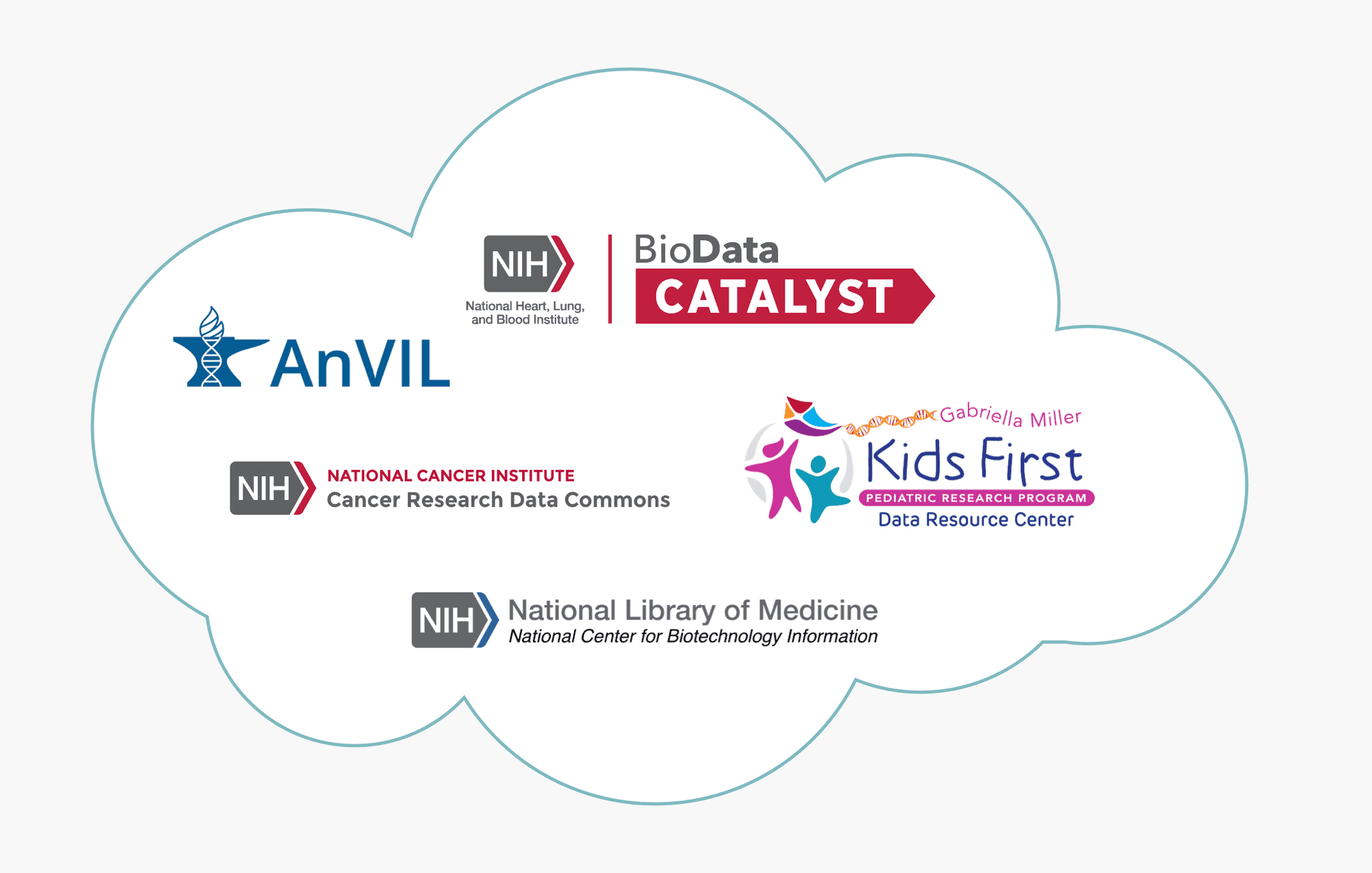 Connecting NIH's various data systems is a critical step toward improving researchers' access to all types of data. The NIH Cloud Platform Interoperability (NCPI) effort seeks to create a federated genomic data ecosystem and is a collaborative project between NIH and external partners comprising five working groups.
When researchers obtain data from a specific platform, there is no guarantee that the data will be readily usable alongside data from a different platform. By focusing on interoperability, the NCPI effort is ensuring that researchers can both find and integrate data more easily from the following four participating platforms:
AnVIL – The NHGRI Genomic Data Science The Genomic Analysis, Visualization, and Informatics Lab-space, or AnVIL, is NHGRI's genomic data resource that leverages a cloud-based infrastructure for democratizing genomic data access, sharing and computing across large genomic, and genomic-related data sets. Learn more about AnVIL
BioData Catalyst – NHLBI BioData Catalyst is a cloud-based platform providing tools, applications, and workflows in secure workspaces. By increasing access to NHLBI datasets and innovative data analysis capabilities, BioData Catalyst accelerates efficient biomedical research that drives discovery and scientific advancement, leading to novel diagnostic tools, therapeutics, and prevention strategies for heart, lung, blood, and sleep disorders. Learn more about BioData Catalyst
Cancer Research Data Commons – The goal of the National Cancer Institute's Cancer Research Data Commons (CRDC) is to empower researchers to accelerate data-driven scientific discovery by connecting diverse datasets with analytical tools in the cloud. The CRDC is built upon an expandable data science infrastructure that provides secure access to many different data across scientific domains via Data Commons Framework. Learn more about CRDC
Kids First Data Resource Center – The NIH Common Fund's Gabriella Miller Kids First Pediatric Research Program's ("Kids First") vision is to "alleviate suffering from childhood cancer and structural birth defects by fostering collaborative research to uncover the etiology of these diseases and by supporting data sharing within the pediatric research community." Learn more about Kids First
National Center for Biotechnology Information – The National Center for Biotechnology Information (NCBI) at the National Library of Medicine (NLM) hosts and manages the Database of Genotypes and Phenotypes (dbGaP) and NIH's Sequence Read Archive (SRA). dbGaP provides and manages access to protected data related to human studies that have investigated the interaction of genotype and phenotype. SRA is the largest archive for public and controlled-access next-generation sequencing data. Learn more about NCBI at NLM
The NCPI effort is piloting a single sign-on authentication/authorization workflow in collaboration with the NIH CIT Researcher Auth Service (RAS) Initiative.
Learn more about the NCPI's research efforts.
Guiding Principles
The NCPI has adopted the following interoperability principles to help guide its efforts:
Form trust relationships and interoperate with other platforms.
Follow the golden rule of data resources.
Support the principle of least restrictive access.
Agree on standards, compete on implementations.
Plan to support patient partnered research.
Read more about these principles, which were adopted on April 8, 2020.
This page last reviewed on April 14, 2023