Webinar on Sharing, Discovering, and Citing COVID-19 Data and Code in Generalist Repositories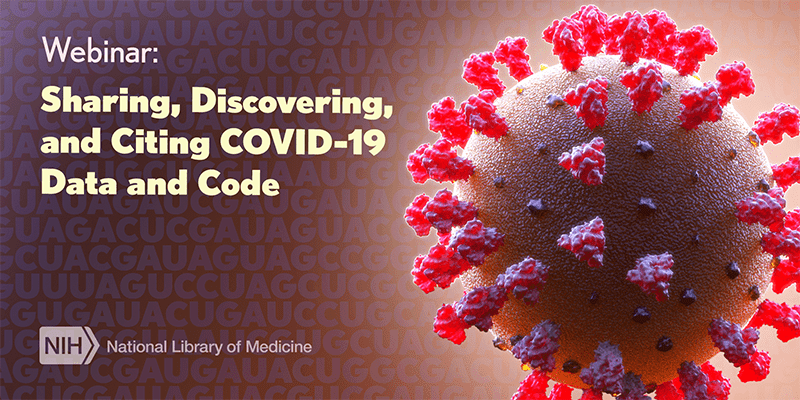 The National Library of Medicine (NLM) at the National Institutes of Health hosted a webinar for researchers to learn how to share, discover, and cite COVID-19 data and code in generalist repositories on April 24. More than 1,000 viewers joined live, and a recording of the webinar is available.
The biomedical research community's understanding of the novel coronavirus and the associated coronavirus disease (COVID-19) is rapidly evolving. Open science and the timely sharing of research data have played a critical role in advancing our understanding of COVID-19 and accelerating the pace of discovery.
This webinar provided researchers an opportunity to hear from multiple generalist repositories about the ways each repository is supporting discoverability and reusability of COVID-19 data and associated code. The NLM also provided an overview of available COVID-19 literature. Presentations are available below.
The webinar recording is available via NIH VideoCast.
Presentations and Supporting Information
Presentations are accessible by clicking the presentation titles. Related data resources and information for each repository are listed below each presentation.
Sharing, Discovering, and Citing Data in Times of Crisis
Susan Gregurick, NIH Associate Director for Data Science and Director, Office of Data Science Strategy
Vivli COVID-19 Portal
Ida Sim, Technical Lead
Figshare: Sharing, Discovering, and Citing COVID-19 Data and Code
Mark Hahnel, CEO
COVID-19 Open Repo Data on GitHub
Greg Ceccarelli, Senior Manager, Data Science
Dryad: Responding to & Aligning with an Evolving Research Landscape
Daniella Lowenberg, Research Data Specialist and Dryad Product Manager
Zenodo: COVID-19 Response
Tim Smith, Head of Collaboration, Devices and Applications Group
COVID-19 Data in Harvard Dataverse
Mercè Crosas, Chief Data Science and Technology Officer, Institute for Quantitative Social Science
COVID-19 and Mendeley Data
Wouter Haak, Vice President, Research Data Management Solutions, Elsevier
PubMed Central and COVID-19
Kathryn Funk, Program Manager, PubMed Central
This page last reviewed on May 8, 2020