#FellowFriday: Meera Kurup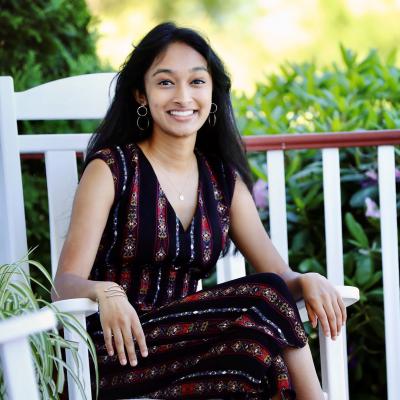 Meera Kurup is a rising sophomore at Brown University studying computer science and public policy. She is also a Coding it Forward Civic Digital Fellow at NIH for the summer, teleworking from Nashua, N.H. Meera is working with Andy Kelly, the budget officer for the National Center for Advancing Translational Sciences (NCATS).
For Kurup, the COVID-19 pandemic presented a unique opportunity to apply her skills and expand her fellowship project. Working with the Information Technology Resources Branch at NCATS, "I am working on an enrolled CT tracker for COVID-19 trial data provided by the FDA, specifically creating a dashboard to present the data using QlikView," she explained.
"I am also learning how to use Palantir's data analysis platform that NCATS is utilizing for N3C and will be working on some data analysis on the drug trial data using N3C."
N3C is the National COVID Cohort Collaborative. It's a partnership among the NCATS-supported Clinical and Translational Science Awards Program hubs and the National Center for Data to Health. The aim is to build a centralized national data resource – the NCATS N3C Data Enclave – that the research community can use to study COVID-19 and identify potential treatments as the pandemic continues to evolve.
In addition to her technical work, Kelly noted, "When I was initially talking to Meera, I asked her 'What's going to make this internship successful to you?' and she was interested in both the government work as well as the IT work."
He continued, "She's been involved in a couple planning meetings and organizational development meetings, so she's gotten to see some of that work."
The exposure to non-technical work has been beneficial to Kurup as she considers her career plans. "I want to go into the field of doing work in the public sector or taking the route of social entrepreneurship and using computer science for good," Kurup said.
The Coding it Forward fellowship is traditionally an in-person experience, but this year's fellows are working remotely. "Since I had the experience with college and spent a few months being remote, I wasn't as nervous," Kurup said. "I've luckily been able to not only keep the community we have with the Coding it Forward fellows, but also still maintain contact with my mentors."
"I really wanted to learn from this internship, grow, and build my technical and non-technical skills, which I have been able to do," she added.
As far as passing the time while social distancing, "I've been biking a lot with my parents, who love to go biking. Sometimes ten or twenty miles of biking."
The Office of Data Science Strategy at NIH works with institutes and centers like NCATS and with Coding it Forward to bring fresh perspectives to tackle computational challenges facing the biomedical research workforce each summer. ODSS will feature fellows and mentors from the 2020 cohort throughout the summer. Meet Meera's mentor, Andy Kelly.
This page last reviewed on July 24, 2020