NIH Fast Healthcare Interoperability Resources® Initiatives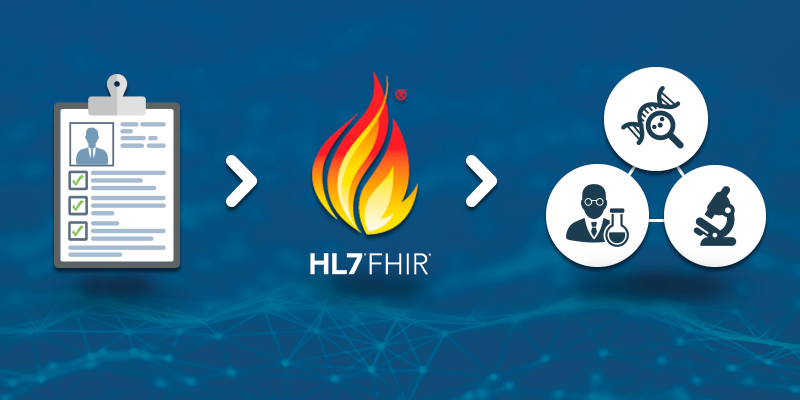 About FHIR®
The Health Level Seven International® (HL7®) Fast Healthcare Interoperability Resources (FHIR®) standard enables electronic healthcare data exchange through an application programming interface (API). An API is a specified set of protocols and data standards that establish the ground rules by which one information system directly communicates with another. Software developers can seamlessly connect their program to another computer through a FHIR API to transmit electronic health data.
FHIR® and the FLAME mark are the registered trademarks of HL7 and are used with the permission of HL7.
Using FHIR to Catalyze Biomedical Research
Data sharing is essential for expedited translation of research resources into knowledge, products, and procedures to improve human health. It enables researchers to more vigorously test the validity of research findings, strengthen analyses by combining data sets, and explore new frontiers.  Data standards are key to the reusability of data, allowing data to be more easily analyzed, shared, and combined.
There is tremendous biomedical research potential in connecting the billions of data points stored in electronic health records (EHRs) and clinical trial records across thousands of medical systems around the country and sharing them to advance biomedical research. However, the potential of those data being used for discovering new treatments and cures is severely hampered today due to the lack of standardized data sharing.
This is where FHIR comes in: it allows EHRs to "speak" with third-party applications using a common exchange standard to unlock the data stored within them. NIH researchers could then develop third party applications to extract clinical data from a FHIR API to enable new discoveries and improved health.
How NIH is Supporting the Use of FHIR
The NIH Strategic Plan for Data Science provides a roadmap for modernizing the NIH-funded biomedical data science ecosystem. One of the objectives within the plan is to leverage ongoing initiatives, such as FHIR, to better integrate clinical and observational data into biomedical science. Here are some of the ways in which the agency is accomplishing this objective by supporting the use of FHIR:
NIH is actively funding FHIR-related research and development, click here to see a list of extramural grantee projects currently underway. NIH intramural researchers are contributing to FHIR R&D as well; for example, Clem McDonald, M.D. and his team at the National Library of Medicine (NLM) are developing tools for standardization of electronic health records and clinical genetic test reports that utilize the FHIR standard.
NIH is encouraging researchers to explore the use of the FHIR standard to capture, integrate, and exchange clinical data for research purposes and to enhance capabilities to share research data (NOT-OD-19-122).
NIH solicited input from the public to better understand researchers' experiences using FHIR standards, the extent to which they plan to use them in the future, what additional tools are needed, the need for research regarding standards development, and challenges with using FHIR standards (NOT-OD-19-150).
NIH awarded two contracts in 2019 to advance the development of FHIR-based tools and a mechanism for sharing phenotypic information for genomic research and medicine via the FHIR standard.
The National Institute of Diabetes and Digestive and Kidney Diseases is partnering with the Agency for Healthcare Research and Quality and the HHS Assistant Secretary for Planning and Evaluation in building data capacity for conducting pragmatic, patient-centered outcomes research by developing an interoperable electronic care (eCare) plan. As part of the eCare plan, the partners are developing an open-source, SMART on FHIR application for people with multiple chronic conditions, as well as an accompanying HL7 FHIR Implementation Guide, and will test the pilot application and guide in populations with chronic kidney disease.
The National Human Genome Research Institute will support work in the Electronic Medical Records and Genomics (eMERGE) Network to release a FHIR-based schema for returning structured genetic test results identified in a clinical report to the medical community. 
The NLM is exploring the creation of a FHIR-compliant API for retrieving standardized phenotype data from several large population cohort studies archived within the database of Genotypes and Phenotypes (dbGaP).
The National Center for Data to Health, an initiative of the Clinical and Translational Science Awards Program at the National Center for Advancing Translational Sciences, is coordinating FHIR tools and resources to forge translational research networks.
This page last reviewed on April 9, 2021