Friday, April 8, 2022
April Data Sharing and Reuse Seminar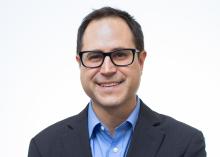 Adam R. Ferguson, M.S., Ph.D. will present "Data Sharing and Machine Intelligence for Translational CNS Injury Research" at the monthly Data Sharing and Reuse Seminar on April 8 at 12 p.m. ET.
About the Seminar
The central nervous system (CNS) is intrinsically complex and CNS injury impacts molecules, cells, circuits, cognition, mood and behavior, and all organ systems innervated by CNS via its peripheral projections. To manage this complexity the fields of traumatic brain injury and spinal cord injury have launched community-driven data sharing initiatives and ecosystems for making research data FAIR and AI-ready. Dr. Ferguson will provide an overview of these efforts and describe how machine intelligence on pooled data is revolutionizing precision care in these epidemiologically large, yet poorly understood areas of biomedicine.
About the Speaker
Dr. Ferguson works specifically at the interface of data science and translational biomedical research. During his PhD in psychology (behavioral neuroscience), he specialized in injury-induced neuroplasticity, as well multivariate quantitative methods. He then completed postdoctoral research in cellular and molecular neuroscience, including an individual NIH NRSA (F32) dedicated to synaptic biology after spinal cord injury (SCI). He pivoted directly from F32- funded postdoc into R01-funded faculty of UCSF in 2010 with an NIH early-stage investigator award (R01) in synaptic biology after CNS injury and an established investigator award (R01) to develop data science tools for neurotrauma. His laboratory has continued to pursue both bench research and data science ever since. Among their notable scientific contributions, they developed a preclinical data sharing network that has now matured into the Open Data Commons for Spinal Cord Injury (odc-sci.org) and Traumatic Brain Injury (odc-tbi.org), cloud- based data infrastructures hosting data from over 100+ laboratories (10,000+ research subjects), and the translational private data commons (pdc-sci.org) for late-stage stem cell and neuromodulation therapies. He is jointly appointed to the San Francisco Veterans Affairs (VA) Health Care System and has two VA Merit Awards (I01) to develop data science tools for late-stage nonhuman SCI translational models and chronic traumatic brain injury (cTBI) and serves as MPI on the VA PRECISE-TBI Interagency Resource Center (I50). At UCSF, he serves as PD/PI on and NIH UG3/UH3 project for multicenter biomarker discovery in preclinical TBI (TOP-NT), a U24 to support Panneurotrauma data repositories, and an R01 for synaptic plasticity after neurotrauma. He also serves as data science Co-I on multicenter clinical research projects, including large-scale NIH/DoD clinical discovery projects TRACKSCI, TRACK-TBI/TED, CARE-TRACK-TBI DOD-DOE grant, and the UCSF-REACH U19 chronic low back pain project as part of the HEAL initiative. He is involved in shaping national data sharing policy for FAIR (findable, accessible, interoperable, reusable) data through workshop presentations at NASEM and related whitepapers. Finally, he serves as director of biostats and data sciences for the UCSF BMS graduate studies program and has served as mentor/co-mentor on 16 successful fellowships including 5 NRSAs, a NIH K99R00, a K22R00, NIH diversity awards, an NIH BD2K RoadTrip fellowship, 2 VA CDA K award, among others. Collectively this work has produced 170+ published papers in preclinical and clinical research, most co-authored with trainees.
About the Seminar Series
The seminar is open to the public and registration is required each month. Individuals who need interpreting services and/or other reasonable accommodations to participate in this event should contact Rachel Pisarski at 301-670-4990. Requests should be made at least five days in advance of the event.
The National Institutes of Health (NIH) Office of Data Science Strategy hosts this seminar series to highlight exemplars of data sharing and reuse on the second Friday of each month at noon ET. The monthly series highlights researchers who have taken existing data and found clever ways to reuse the data or generate new findings. A different NIH institute or center will also share its data science activities each month.