NIH Data Sharing and Reuse Seminar Series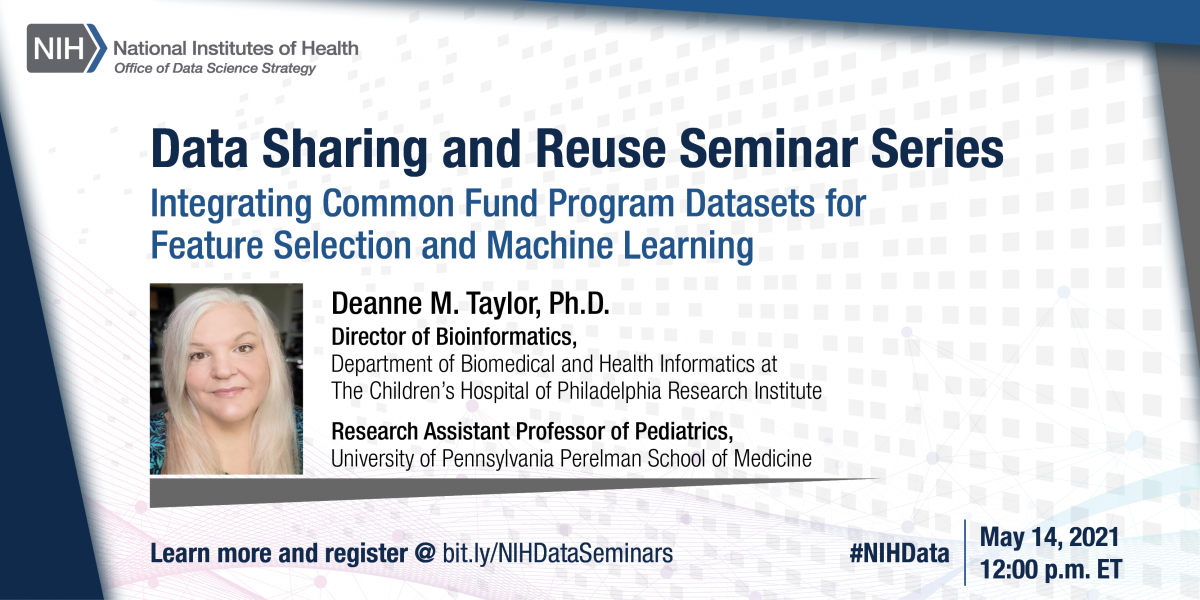 The National Institutes of Health (NIH) Office of Data Science Strategy hosts a seminar series to highlight exemplars of data sharing and reuse on the second Friday of each month at noon ET. The monthly series highlights researchers who have taken existing data and found clever ways to reuse the data or generate new findings. A different NIH institute or center (IC) will also share its data science activities each month.
The seminar is open to the public and registration is required each month. Individuals who need interpreting services and/or other reasonable accommodations to participate in this event should contact Erin Walker at 301-827-9655 or the Federal Relay Service at 800-877-8339. Requests should be made at least three days in advance of the event.
A recording will be available on this page after the event.
Upcoming Speakers
REGISTER NOW May 14, 2021: Deanne M. Taylor, Ph.D., The Children's Hospital of Philadelphia Research Institute, "Integrating Common Fund Program Datasets for Feature Selection and Machine Learning"
Past Speakers
Date

Speaker

Topic

Funding IC

Feb. 12, 2021
Watch Now

Russ Poldrack, Ph.D., Stanford University

"An Open Ecosystem for Data Sharing in Human Neuroscience"

National Institute on Drug Abuse

Mar. 12, 2021
Watch Now

Alisa Manning, Ph.D., Massachussetts General Hospital
"Opportunities for NIH Cloud Interoperability Approaches to Improve Outcomes of Pediatric Diseases"
National Heart, Lung, and Blood Institute
Apr. 9, 2021
Watch Now
Yang Chai, D.D.S, Ph.D., University of Southern California
"FaceBase--A Data Sharing Resource to Support Dental and Craniofacial Research"
National Institute of Dental and Craniofacial Research
This page last reviewed on April 28, 2021