Friday, April 14, 2023
April Data Sharing and Reuse Seminar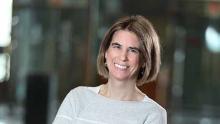 Dr. Valerie Schneider will present "The NIH Comparative Genomics Resource (CGR): A new ecosystem facilitating reliable comparative genomics" at the monthly Data Sharing and Reuse Seminar on April 14, 2023 at 12 p.m. EDT.
About the Seminar
This seminar will introduce the NIH Comparative Genomics Resource (CGR), an NIH-funded, multi-year NLM project to establish an ecosystem to facilitate reliable comparative genomics analyses for all eukaryotic organisms in collaboration with the genomics community. The project's vision is to maximize the biomedical impact of eukaryotic research organisms and their genomic data resources to meet emerging research needs for human health. To achieve this, NCBI is providing high-value data and assorted tools compatible with community-provided resources.
About the Speaker
Dr. Valerie Schneider has been at NCBI since 2007 and is the SeqPlus Program Head and Deputy Director for Sequence Offerings. In these roles, she coordinates efforts associated with the curation, enhancement, and organization of sequence data, as well as oversees tools and resources that enable the public to access, analyze, and visualize biomedical data. She also manages NCBI's involvement in the Genome Reference Consortium, the international collaboration responsible for maintaining the human reference genome assembly. She earned a Ph.D. in Biological and Biomedical Sciences from Harvard University in 2001, followed by a postdoctoral fellowship at the University of Pennsylvania. In her former life as a wet lab biologist, she studied various research organisms, including Tetrahymena thermophila, Drosophila melanogaster, Xenopus laevis, chicken, and zebrafish, to answer questions relevant to human development.
About the Seminar Series
The seminar is open to the public and registration is required each month. Individuals who need interpreting services and/or other reasonable accommodations to participate in this event should contact Rachel Pisarski at 301-670-4990. Requests should be made at least five days in advance of the event.
The National Institutes of Health (NIH) Office of Data Science Strategy hosts this seminar series to highlight exemplars of data sharing and reuse on the second Friday of each month at noon ET. The monthly series highlights researchers who have taken existing data and found clever ways to reuse the data or generate new findings. A different NIH institute or center will also share its data science activities each month.