Friday, April 9, 2021
April Data Sharing and Reuse Seminar: Yang Chai, D.D.S., Ph.D.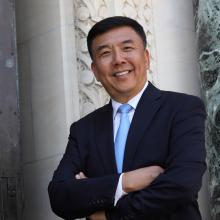 Yang Chai, D.D.S., Ph.D., will present "FaceBase--A Data Sharing Resource to Support Dental and Craniofacial Research" at the monthly Data Sharing and Reuse Seminar on April 9, 2021, at 12 EDT. Dr. Chai is a university professor at the University of Southern California.
FaceBase is a collaborative project that houses comprehensive data in support of advancing research into dental and craniofacial development and malformation. The project is funded by the National Institute of Dental and Craniofacial Research and serves as a community resource by curating large datasets of a variety of types from the craniofacial research community. Dr. Chai will discuss FaceBase data and related high-throughput genetic, molecular, biological, imaging and computational techniques.
The seminar is open to the public and registration is required each month. Individuals who need interpreting services and/or other reasonable accommodations to participate in this event should contact Erin Walker at 301-827-9655 or the Federal Relay Service at 800-877-8339. Requests should be made at least three days in advance of the event.
The National Institutes of Health (NIH) Office of Data Science Strategy hosts a seminar series to highlight exemplars of data sharing and reuse on the second Friday of each month at noon ET. The monthly series highlights researchers who have taken existing data and found clever ways to reuse the data or generate new findings. A different NIH institute or center will also share its data science activities each month.