Monday, September 21, 2020
The Case for Making Data as Open as Possible
Lessons Learned from the NIH Generalist Repository Pilot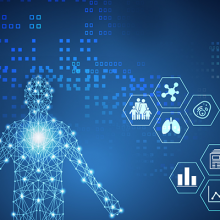 In July 2020 the Office of Data Science Strategy (ODSS) at the National Institutes of Health (NIH) completed the NIH Figshare Instance project, a one-year pilot with existing generalist repository Figshare to determine how biomedical researchers may use a generalist repository for sharing and reusing NIH-funded data.
To mark the conclusion of this project, ODSS invited Figshare founder and CEO Mark Hahnel, Ph.D., to share some of the pilot outcomes, his perspective on lessons learned from the project, and his thoughts on the future of data sharing at the NIH Data Science Town Hall, a monthly meeting for NIH employees interested in data science activities across the agency. The recording of his presentation is now available.
A summary of his presentation, "Hahnel Argues for Making Data as Open as Possible," was published recently in the NIH Record. An excerpt is below.
"This pilot gave us an opportunity to test the idea that we need people curating and improving the data when it is added to a repository to make it FAIR for machines."

The result was more discoverable data thanks to more descriptive titles and metadata.

"Truly FAIR data for humans and machines takes more than just data and technology," Hahnel said. "You need people in the mix working with researchers and checking files."
Watch the recording of Hahnel's town hall presentation and read the full article.
Learn more about the pilot project on our website.