Exploring a Generalist Repository for NIH-funded Data
Incorporating Generalist Repositories into the NIH Data Ecosystem
Generalist Repository Ecosystem Initiative (GREI) will make it easier to find and reuse NIH-funded data.
In 2019-2020, the NIH funded a one-year pilot project with an existing generalist repository, Figshare(link is external), that demonstrated the need for and utility of generalist repositories to fill these gaps in the biomedical data repository landscape. Over the course of the pilot project, more researchers deposited data in NIH repositories and more publications began linking to generalist repositories. However, researchers needed more guidance on where to publish data and how to describe the datasets in use.
Find a detailed summary of the NIH pilot here.
In 2020, ODSS also commissioned an independent assessment on the generalist repository landscape, which found a clear need for the services provided by generalist repositories, and that repositories and researchers are looking to NIH as a leader in the data sharing space. ODSS also partnered with National Libraries of Medicine (NLM) to co-sponsor a community workshop on the role of generalist repositories, which led to the creation of a repository services matrix as well as the creation of the concept of "co-opetition" to create ecosystems.
Find a full summary of the workshop here.
In 2022, ODSS launched the GREI to enable better sharing, access to, and discovery of NIH-funded data among generalist repositories.
GREI Vision
The long-term vision for GREI is to develop collaborative approaches for data management and sharing through inclusion of the generalist repositories in the NIH data ecosystem. GREI also aims to better enable search and discovery of NIH-funded data in the generalist repositories.
GREI Mission
GREI's mission is twofold. The primary mission is to establish a common set of cohesive and consistent capabilities, services, metrics, and social infrastructure across various generalist repositories. Secondarily, GREI will raise general awareness and help researchers to adopt FAIR principles to better share and reuse data.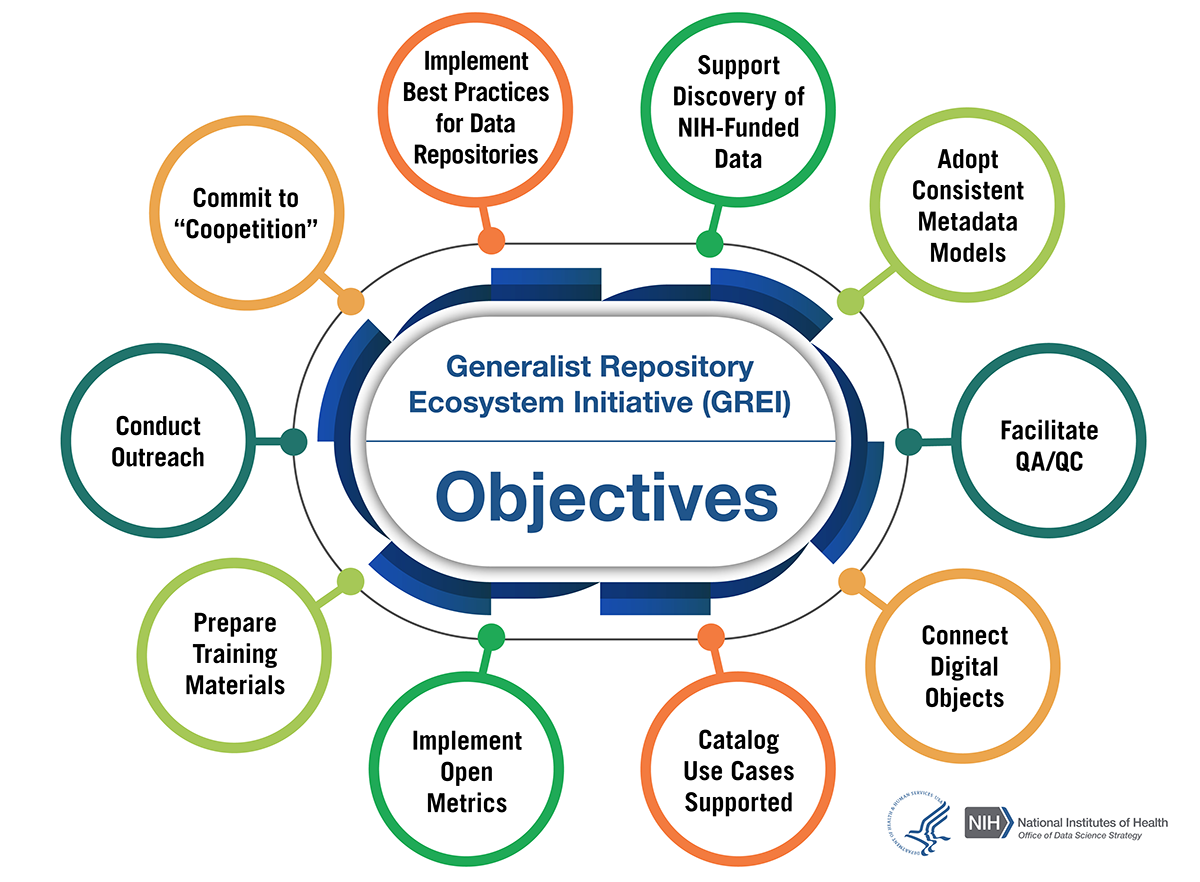 GREI currently includes seven established generalist repositories that will work together to establish consistent metadata, develop use cases for data sharing, train and educate researchers on FAIR data and the importance of sharing, and more.
ODSS anticipates that this initiative will further enhance the biomedical data ecosystem and help researchers find and share data from NIH-funded studies in generalist repositories.
For a full list of GREI webinars and awardee hosted trainings, click here. 
GREI Awardees

Contact grei@nih.gov with any questions, ideas, or suggestions.
This page last reviewed on October 6, 2022