Friday, December 10, 2021
December Data Sharing and Reuse Seminar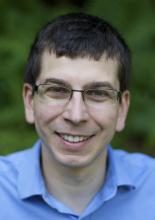 Casey Greene, Ph.D. will present "Open Data Can Power AI-based Approaches to Tackle Biomedical Challenges" at the monthly Data Sharing and Reuse Seminar on December 10 at 12 p.m. ET.
About the Seminar
Dr. Greene plans to discuss the richness of open data resources in biology and how they can support machine learning approaches and be enriched by such methods. He'll also discuss how we might think about data sharing to maximize reuse and the value of our public investment.
About the Speaker
Dr. Greene is a Professor in the Department of Biochemistry and Molecular Genetics and the Director of the Center for Health AI in the University of Colorado School of Medicine and the Interim Director of the Colorado Center for Personalized Medicine. His lab develops machine learning methods that integrate distinct large-scale datasets to extract the rich and intrinsic information embedded in such integrated data. This approach reveals underlying principles of an organism's genetics, its environment, and its response to that environment. He established the Research Parasite Award, which is given annually to exemplars of data reuse and accompanied by a cash prize.
About the Seminar Series
The seminar is open to the public and registration is required each month. Individuals who need interpreting services and/or other reasonable accommodations to participate in this event should contact Rachel Pisarski at 301-670-4990. Requests should be made at least five days in advance of the event.
The National Institutes of Health (NIH) Office of Data Science Strategy hosts this seminar series to highlight exemplars of data sharing and reuse on the second Friday of each month at noon ET. The monthly series highlights researchers who have taken existing data and found clever ways to reuse the data or generate new findings. A different NIH institute or center will also share its data science activities each month.