Friday, February 10, 2023
February Data Sharing and Reuse Seminar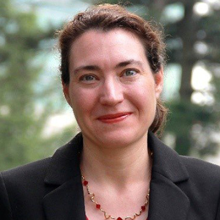 Dr. Cecile Viboud will present "Big data for surveillance, and the power of collaborative hubs for disease modeling" at the monthly Data Sharing and Reuse Seminar on February 10, 2023 at 12 p.m. EDT.
About the Seminar
This seminar will discuss how social media were mined in the first few weeks of the COVID19 pandemic to build publicly available individual-level datasets and reconstruct surveillance curves before ground-truth data became available. Dr. Viboud will draw from experience with the COVID-19 Scenario Modeling Hub to illustrate how collaborative and coordinated modeling hubs can help guide the response to infectious disease crises. She will also discuss how big data approaches can be used to improve the utility of these hubs.
About the Speaker
Dr. Cecile Viboud, a senior research scientist in the Division of International Epidemiology and Population Studies of the Fogarty International Center, National Institutes of Health, will discuss infectious disease modeling. Her research focuses on the epidemiology and transmission dynamics of acute viral infections, at the interface of public health and computational modeling. Her work has primarily concentrated on the epidemiology of respiratory viruses and pandemic influenza, but she has recently become interested in the potential of Big Data to strengthen infectious disease surveillance and forecasting approaches.
A native of France, she received an engineer degree in biomedical technologies from the University of Lyon (1998), a Master of Public Health (1999) and a PhD in Biomathematics (2003) from Pierre and Marie Curie University, Paris, France.
About the Seminar Series
The seminar is open to the public and registration is required each month. Individuals who need interpreting services and/or other reasonable accommodations to participate in this event should contact Rachel Pisarski at 301-670-4990. Requests should be made at least five days in advance of the event.
The National Institutes of Health (NIH) Office of Data Science Strategy hosts this seminar series to highlight exemplars of data sharing and reuse on the second Friday of each month at noon ET. The monthly series highlights researchers who have taken existing data and found clever ways to reuse the data or generate new findings. A different NIH institute or center will also share its data science activities each month.