Friday, January 13, 2023
January Data Sharing and Reuse Seminar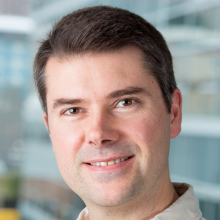 Dr. Eric Deutsch will present "The ProteomeXchange Consortium at 10 Years: Promoting FAIR Data for Mass Spectrometry-based Proteomics" at the monthly Data Sharing and Reuse Seminar on January 13, 2023 at 12 p.m. EDT.
About the Seminar
The ProteomeXchange Consortium of proteomics data repositories has been promoting FAIR data principles for 10 years. Dr. Deutsch will describe the growth, current state, and future plans for the ProteomeXchange Consortium and its worldwide members.
About the Speaker
Dr. Eric Deutsch obtained his Ph.D. in Astrophysics from the University of Washington, and then moved to the Institute for Systems Biology where he is now a Principal Scientist focusing on Computational Proteomics. He currently leads the team that develops the Trans-Proteomic Pipeline (TPP), an open-source suite of software tools for processing proteomics mass spectrometry data. He also leads the team that develops PeptideAtlas, a resource that gathers publicly deposited proteomics data from around the world, reprocesses the data with the TPP, and provides the results as ensemble views of the observed proteome for many different species. Dr. Deutsch contributes to the development of minimum information standards and standardized data formats as co-chair of the HUPO Proteomics Standards Initiative (PSI) and chair of its mass spectrometry standards working group, which has produced such standards as mzML and the Universal Spectrum Identifier (USI). He is one of the leaders of the ProteomeXchange Consortium of proteomics repositories that aims to promote data sharing in the community. He is also chair of the HUPO Human Proteome Project (HPP) Knowledge Base Pillar and a member of the HPP Executive Committee and Biology/Disease focused HPP Executive Committee.
About the Seminar Series
The seminar is open to the public and registration is required each month. Individuals who need interpreting services and/or other reasonable accommodations to participate in this event should contact Rachel Pisarski at 301-670-4990. Requests should be made at least five days in advance of the event.
The National Institutes of Health (NIH) Office of Data Science Strategy hosts this seminar series to highlight exemplars of data sharing and reuse on the second Friday of each month at noon ET. The monthly series highlights researchers who have taken existing data and found clever ways to reuse the data or generate new findings. A different NIH institute or center will also share its data science activities each month.