Friday, July 9, 2021
July Data Sharing and Reuse Seminar: Mark Musen, M.D., Ph.D.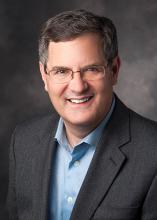 Mark Musen, M.D., Ph.D., will present "There's No Easy Way Out: Making Data FAIR Requires Better Metadata. Information Technology Can Help." at the monthly Data Sharing and Reuse Seminar on July 9 at 12 EDT. Musen is professor of biomedical informatics and of biomedical data science at Stanford University, where he is director of the Stanford Center for Biomedical Informatics Research. 
About the Seminar
The research community now expects datasets to be findable, accessible, interoperable, and reusable (FAIR), and scientists seem to assert reflexively that their data are FAIR even more than they claim that their data are conclusive. But creating FAIR data is hard, and the process depends on authoring metadata that adhere to community standards for how the underlying datasets should be reported. Tools such as CEDAR can help investigators to create FAIR data when the data are first archived in repositories. Musen will discuss his group's new work that addresses the challenge of "scrubbing" legacy metadata to infer what might have been meant by metadata authors who have not adhered to the standards needed to make their data FAIR.  
About the Speaker
Musen conducts research related to open science, intelligent systems, computational ontologies, and biomedical decision support. His group developed Protégé, the world's most widely used technology for building and managing terminologies and ontologies. Musen served as principal investigator of the National Center for Biomedical Ontology, one of the original National Centers for Biomedical Computing created by the National Institutes of Heath (NIH). He directs the Center for Expanded Data Annotation and Retrieval (CEDAR), founded under the NIH Big Data to Knowledge Initiative. CEDAR develops semantic technology to ease the authoring and management of biomedical experimental metadata. 
About the Seminar Series
The seminar is open to the public and registration is required each month. Individuals who need interpreting services and/or other reasonable accommodations to participate in this event should contact Erin Walker at 301-827-9655 or the Federal Relay Service at 800-877-8339. Requests should be made at least three days in advance of the event.
The NIH Office of Data Science Strategy hosts this seminar series to highlight exemplars of data sharing and reuse on the second Friday of each month at noon ET. The monthly series highlights researchers who have taken existing data and found clever ways to reuse the data or generate new findings. A different NIH institute or center will also share its data science activities each month.