Friday, June 10, 2022
June Data Sharing and Reuse Seminar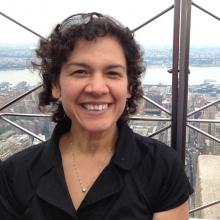 Dr. Rosa Alcazar will present "Creating a Just Genomic Data Science Community by Providing Resources at Community Colleges" at the monthly Data Sharing and Reuse Seminar on June 10, 2022 at 12 p.m. EDT.
About the Seminar
Genomic data science has become foundational to modern biology research.  To create a just research community, we must provide sufficient resources to places that excel in serving people from underrepresented populations.  While community colleges offer pathways for many who wouldn't otherwise be able to attend college, they  often lack the compute infrastructure, curriculum, and professional development necessary for instruction in rapidly changing fields.  In partnership with a group of dedicated researchers and educators, we are building the Genomic Data Science Community Network (GDSCN) to provide resources accessible by anyone with an internet connection.  Our vision is to share not only data but training and expertise irrespective of institutional affiliation breaking down barriers that create silos perpetuating a homogenized research community. 
About the Speaker
Dr. Rosa Alcazar is a Latina, first-generation high school graduate that attended community college part-time before transferring to UC Riverside and then receiving her doctorate at Johns Hopkins University.  She is currently a Biology Instructor at Clovis Community College where she advocates for institutional changes to remove systemic barriers in order to create a diverse research community.
About the Seminar Series
The seminar is open to the public and registration is required each month. Individuals who need interpreting services and/or other reasonable accommodations to participate in this event should contact Rachel Pisarski at 301-670-4990. Requests should be made at least five days in advance of the event.
The National Institutes of Health (NIH) Office of Data Science Strategy hosts this seminar series to highlight exemplars of data sharing and reuse on the second Friday of each month at noon ET. The monthly series highlights researchers who have taken existing data and found clever ways to reuse the data or generate new findings. A different NIH institute or center will also share its data science activities each month.