Friday, June 11, 2021
June Data Sharing and Reuse Seminar: Lara Mangravite, Ph.D.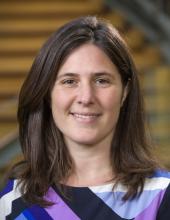 Lara Mangravite, Ph.D., will present "Diversifying the AD Target Pipeline: Data and Tool Sharing to Catalyze the Study of Understudied Drug Targets" at the monthly Data Sharing and Reuse Seminar on June 11 at 12 EDT. Mangravite is president of Sage Bionetworks, an organization that focuses on open practices to drive reliable outcomes in computational life sciences.
About the Seminar
Alzheimer's Disease (AD) is a debilitating and heterogeneous neurodegenerative disorder affecting an estimated 44 million people world-wide. Because drug development in AD is a costly and time-consuming endeavor, AD drug discovery has focused on a small set of highly studied therapeutic hypotheses. Given the heterogeneity in disease, it is unlikely that these drug programs will fully support treatment needs for AD patients.
To catalyze evaluation of targets in a wider range of therapeutic hypotheses, the National Institute on Aging-funded AD translational research program has developed a series of target discovery and validation programs to evaluate candidate targets identified from systems biology analysis of multi-modal human data. This program has been defined by an open science spirit to resource sharing, co-analysis, and independent validation. Mangravite will discuss the enabling infrastructure and co-analyses that have been used to catalyze the identification, testing and validation of understudied AD drug targets.
About the Speaker
Lara Mangravite, Ph.D., is president of Sage Bionetworks, an organization that focuses on open practices to drive reliable outcomes in computational life sciences. Recognizing that all research is limited by restrictions placed on the distribution of information, Sage works closely with institutes, foundations and research communities to improve data and information flow, benchmark research practices, and establish reliable research outcomes that support translation. Mangravite obtained a B.S. in physics from Pennsylvania State University and a Ph.D. in pharmaceutical chemistry from the University of California, San Francisco. She also completed a postdoctoral fellowship in cardiovascular pharmacogenomics at the Children's Hospital Oakland Research Institute. 
About the Seminar Series
The seminar is open to the public and registration is required each month. Individuals who need interpreting services and/or other reasonable accommodations to participate in this event should contact Erin Walker at 301-827-9655 or the Federal Relay Service at 800-877-8339. Requests should be made at least three days in advance of the event.
The National Institutes of Health (NIH) Office of Data Science Strategy hosts this seminar series to highlight exemplars of data sharing and reuse on the second Friday of each month at noon ET. The monthly series highlights researchers who have taken existing data and found clever ways to reuse the data or generate new findings. A different NIH institute or center will also share its data science activities each month.