Friday, May 14, 2021
May Data Sharing and Reuse Seminar: Deanne M. Taylor, Ph.D.
Registration now open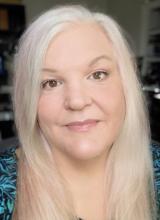 Deanne M. Taylor, Ph.D., will present "Integrating Common Fund Program Datasets for Feature Selection and Machine Learning" at the monthly Data Sharing and Reuse Seminar on May 14, 2021, at 12 EDT. Dr. Taylor is the director of bioinformatics in the Department of Biomedical and Health Informatics at The Children's Hospital of Philadelphia Research Institute and a research assistant professor of pediatrics at the University of Pennsylvania Perelman School of Medicine.
Taylor's work is agglomerating and integrating human and model organism biological knowledge extracted from ontologies and experimental datasets reused from the National Institutes of Health's (NIH) Common Fund. The knowledge is loaded into a graph database modeled on structures in the NIH Unified Medical Language System (UMLS). This knowledge graph will  enable users to search and grow relationships between genes, variants, and pathways on relevant genomic locations of interest from mice and human genetics and genomics experiments. Data are derived from five Common Fund datasets:  
Users can query for selected features for studying new variant-to-variant and gene-to-gene relationships in genetic cohorts and for determining other types of complex relationships among entities in the Common Fund datasets and UMLS annotations.
The seminar is open to the public and registration is required each month. Individuals who need interpreting services and/or other reasonable accommodations to participate in this event should contact Erin Walker at 301-827-9655 or the Federal Relay Service at 800-877-8339. Requests should be made at least three days in advance of the event.
The National Institutes of Health (NIH) Office of Data Science Strategy hosts a seminar series to highlight exemplars of data sharing and reuse on the second Friday of each month at noon ET. The monthly series highlights researchers who have taken existing data and found clever ways to reuse the data or generate new findings. A different NIH institute or center will also share its data science activities each month.