Friday, August 6, 2021
NIH Jumpstarting Access to Clinical Data for COVID-19 Research Showcase 
12-4:30 p.m. ET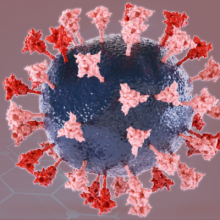 This event has been canceled.
The National Institutes of Health (NIH) Office of Data Science Strategy (ODSS) and the National Library of Medicine (NLM) are hosting a virtual "Jumpstarting Access to Clinical Data for COVID-19 Research Showcase" on Aug. 6 from 12 to 4:30 p.m. ET. This webinar will focus on accomplishments made over the past year in COVID-19 clinical data and research and will be a continuation of the Jumpstart Virtual Community Workshop held last year.
This showcase will feature progress in:
Data ingestion from a variety of data types and data sources
Data harmonization including the use of common data models and common data elements
Record linkage
Data governance, access, and use
Measures for data privacy, security, and confidentiality
Platforms and tools developed to enable COVID-19 research
Researcher access to COVID-19 clinical data and tools
Please direct any questions or comments to datascience@nih.gov. 
Individuals who need reasonable accommodations to participate in this event should contact the ODSS at datascience@nih.gov or the Federal Relay Service at 800-877-8339. Requests should be made at least 10 days in advance of the event.
Draft Agenda
Start Time (EDT) 

Topic 

Presenter 

12:00 P.M.  

Welcome 

Patricia Flatley Brennan, R.N., Ph.D.  

Director, NLM, NIH 

12:05 P.M.  

Opening Remarks 

Lawrence Tabak, D.D.S., Ph.D. 

Principal Deputy Director, NIH 

12:20 P.M.  

 

Accelerating Post-Acute Sequelae of COVID-19 (PASC) Research by Populating Electronic Case Report Forms from Electronic Health Records (EHRs): Application to the NHLBI MUSIC cohort – Long Term Outcomes after the Multisystem Inflammatory Syndrome in Children (MIS-C) 

Alastair Thomson (Moderator) 

Chief Information Officer, National Heart, Lung, and Blood Institute (NHLBI), NIH 

Paul Avillach, M.D., Ph.D. 

Assistant Professor of Biomedical Informatics, Harvard Medical School 

12:50 P.M.  

Consortium for Clinical Characterization of COVID-19 by Electronic Health Record (4CE) 

Predicting Severity and Identifying PASC 

Griffin Weber, M.D., Ph.D. (Moderator) 

Associate Professor of Biomedical Informatics, Harvard Medical School 

Gabriel Brat, M.D. 

Assistant Professor of Surgery, Beth Israel Deaconess Medical Center, Harvard University 

1:20 P.M.  

Break 

 

1:35 P.M.  

 

All of Us Research and PASC 

 

Chris Lunt (Moderator) 

Chief Technology Officer, All of Us Research Program, NIH 

Paul Harris, Ph.D. 

Professor, Department of Biomedical Informatics, Vanderbilt University Medical Center 

2:05 P.M.  

 

 

National COVID Cohort Collaborative (N3C)  and The COVID Digital Pathology Repository

Linking Imaging and EHR data for Longitudinal Research

Ken Gersing, M.D. (Moderator) 

Director of Informatics, National Center for Advancing Translational Sciences, NIH 

Fred Prior, M.D. 

Chair of Department of Biomedical Informatics, University of Arkansas for Medical Sciences 

Stephen Hewitt, M.D., Ph.D. 

Head of Experimental Pathology Laboratory, Center for Cancer Research, National Cancer Institute (NCI), NIH 

Janelle Cortner, Ph.D.

Director, Data Management Program
NCI, NIH

3:05 P.M.  

Break 

 

3:20 P.M.  

 

Institutional Development Award (IDeA) Networks for Clinical and Translational Research (IDeA-CTR) 

COVID-19 Outcomes in Rural America 

Michele McGuirl, Ph.D. (Moderator) 

Chief of Research Advancement Programs Branch, Division of Research Capacity Building, National Institute of General Medical Sciences, NIH 

Clifford Rosen, M.D. 

Director of Clinical and Translational Research, Maine Medical Center Research Institute 

3:50 P.M.  

Panel Discussion with Drs. Paul Avallich, Gabriel Brat, Paul Harris, Fred Prior, Janelle Cortner, and Clifford Rosen

Sally Hodder, M.D. (Moderator)

Associate Vice President for Clinical and Translational Science and Director, West Virginia Clinical & Translational Science Institute, West Virginia University 

4:20 P.M.  

Closing Remarks 

Susan Gregurick, Ph.D. 

Associate Director of Data Science and Director, ODSS, NIH 

4:30 P.M. 

Adjourn