Friday, October 15, 2021
October Data Sharing and Reuse Seminar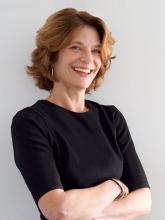 Karen E. Adolph, Ph.D., will present "Databrary: Secure and Ethical Sharing of Research Video as Data and Documentation" at the monthly Data Sharing and Reuse Seminar on October 15 at 12 p.m. ET.
About the Seminar
Video is a tremendously powerful, widely available, and inexpensive tool for understanding behavior in health and disability. Because video uniquely captures the richness of behavior and the subtle details of the surrounding context, it provides unprecedented opportunities for data reuse and for documenting procedures and findings. Dr. Adolph's talk will focus on the NIH-funded Databrary video library and how it enables secure and ethical sharing of research videos among a community of 2,000+ authorized researchers from 660+ institutions worldwide. By sharing and reusing videos, we can accelerate discovery and increase scientific transparency and reproducibility.
About the Speaker
Dr. Adolph is the Julius Silver Professor of Psychology and Neural Science and a professor of applied psychology at New York University. She uses observable motor behaviors and a variety of technologies (video, motion tracking, instrumented floor, head-mounted eye tracking, EEG, etc.) to study developmental processes. Adolph directs the NIH-funded Databrary video library and PLAY project, and she maintains the Datavyu video-coding tool. Adolph received her Ph.D. from Emory University and completed a postdoctoral fellowship at Albert Einstein College of Medicine. She is a fellow of the American Psychological Association and the Association for Psychological Science and a past president of the International Congress on Infant Studies. She has received the Kurt Koffka Medal, the Cattell Sabbatical Award, the APF Fantz Memorial Award, the APA Boyd McCandless Award, the ICIS Young Investigator Award, the FIRST and MERIT awards from NICHD, and five teaching awards from NYU. She chaired the NIH study section on motor function and speech rehabilitation and serves on the McDonnell Foundation advisory board and the editorial boards of Developmental Psychobiology and Motor Learning and Development. Adolph has published 190 articles and chapters. Her research on perceptual-motor learning and development has been continually funded by the NIH since 1991.   
About the Seminar Series
The seminar is open to the public and registration is required each month. Individuals who need interpreting services and/or other reasonable accommodations to participate in this event should contact Rachel Pisarski at 301-670-4990. Requests should be made at least five days in advance of the event.
The National Institutes of Health (NIH) Office of Data Science Strategy hosts this seminar series to highlight exemplars of data sharing and reuse on the second Friday of each month at noon ET. The monthly series highlights researchers who have taken existing data and found clever ways to reuse the data or generate new findings. A different NIH institute or center will also share its data science activities each month.